They predicted a very hot day with more than 30°C. Ideal for me to go out and preferably to a place where cooling was found … so somewhere on water …
Our coastline is overcrowded on these days and so I wanted to go to our northern neighbors. Bruinisse in Zeeland became the place where I would drive by car. Driving is a hobby for me because it gives me a feeling of freedom. This is a trip of about 2 hours from Hasselt and therefore very easy to do.
I made a sanitary stop at La Place Molenheide on the A58 where I also drank a nice coffee.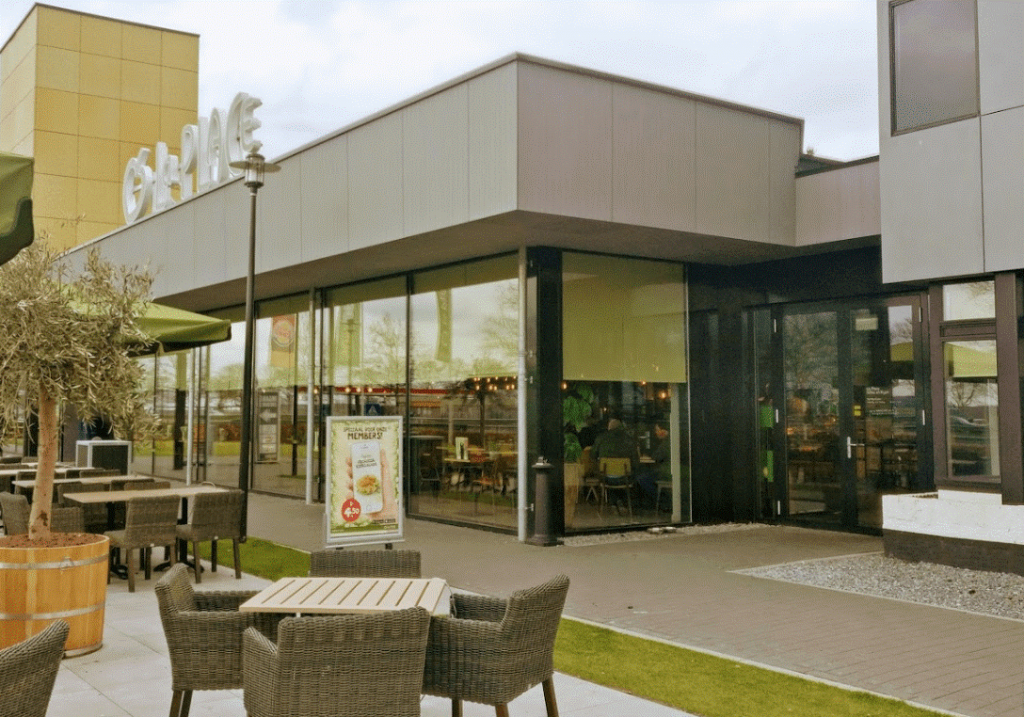 The general entrance (there is also a Burger King and SubWay) has an annoying threshold, the entrance to La Place (seen on photo) is barrier-free.
Toilet is fine. Spacious, brackets on each side, wheelchair accessible washbasin and tilt mirror.
From there I drove to Bruinisse, which is located in the northeast of Zeeland on the Grevelingen Dam on the island of Schouwen-Duiveland. In addition to tourism, and especially for water sports enthusiasts, mussel fishing is the largest source of income here.
At the marina there is ample parking space and a refreshing drink was needed again! Bru17 has a pleasantly accessible terrace and the dishes that I saw passing by made my mouth water. Fresh lobster, mussels straight from the sea … Great!
In the harbor are the mussel boats that sail every day.
A little further you also see the mussel seed capture installations that you recognize by the blue barrels.
Due to shackles around this area, this area is closed to swimmers and kite surfers.
In the picturesque village on the harbor you can take a pleasant stroll and for an accessible and adapted toilet you can go to hotel Bru.
In Bruinisse there is also a Roompot holiday park with very nice houses. However, none is wheelchair accessible. And to get to the Grevelingenmeer you have to either do a lot of stairs or walk a whole detour. Not so ideal.

With the car on the way back I stopped at the spot for the kite surfers. There is no real beach but you can park in the grass next to the road or in the parking of the nearby restaurant and then lie or sit in the grass and enjoy the view. The strong wind provided the ideal cooling!
I ended my day in restaurant Grevelingen. They have a spacious terrace that is accessible, provided you can cross a small threshold. As an avid fish eater, I ordered skewers, a salad and fries. Yummy !
Before I went back on my return, first another sanitary stop in a very spacious and adapted toilet and I was ready to leave.
A very nice day that is definitely worth repeating!