For part 1, click here.
Around 12 o'clock I had reserved our taxi and then left for our ship. Fortunately I did this well in time because it turned out not to be that simple. After calling for 5 hours and 5 taxi centers, someone finally showed up. The hotel manager was furious and really did everything to make us feel at home, even though he couldn't help himself. Again proof that helpfulness is very important here in the US.
Oh dear … a cruise ship is big …
Ten minutes later we arrive in the harbor of Fort Lauderdale where I can take a first look at the ship from afar. And I am going so far … so big … so incredibly high …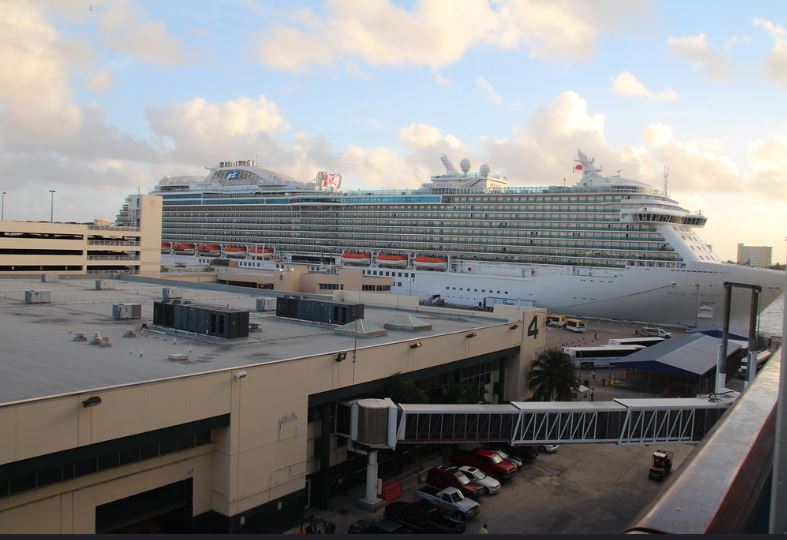 I feel the blood flowing out of my face and I think "I don't dare anymore, I won't go … this is going to sink …".
Titanic conditions are rushing through my mind but I am recovering and keeping myself tough even though Lia sees that I feel very "small" for a while. The taxi driver drops us off and takes us to an assistant who will guide us to the ship. Here again, friendliness is an asset, the heap of papers is quickly sorted out and we are actually in our cabin faster than we expected. Again with the assistance everything goes much smoother. Having a limitation also has its advantages 😉.
Wow what a service!
Our first impression of "our" Celebrity Equinox is one of "wow" … So beautiful, so neat and clean, such a chic interior … This is a bit more than "the love boat" on TV in the past 🙂. Our cabin is also quite spacious, we have a door that opens automatically with the help of a button, our bathroom door is wider than the normal doors in other huts, reasonably spacious bathroom and walk-in shower. There is a railing on every wall of the bathroom, and it turned out that this is necessary 😉. Again a very spacious bed, something later appears to be typically American, we learn later later.
Each cabin also receives a "personal assistant".
If we have questions, or there is a problem, we can contact him at any time. And later this also really works. The service is huge!
The whole ship is very accessible, there is carpet almost everywhere, which is sometimes difficult to drive over (manually), but doors open automatically in all public places, even in the indoor swimming pool and sauna you are a hoist and you become without any effort in and out of the water.
The water was chilly!

Great service!
It is also striking how many people with disabilities cruise. Apparently just because it all runs so easily and smoothly here, and also … the friendliness of the staff is unbeatable!
Plenty of options.
After two days at sea, we also met the people who are responsible for the excursions on land. Again super helpful and always willing to learn. We agree with them on what is possible for me and what I want to see / do, and they personally explore the possibilities.
Day 1: Saint Thomas: We choose the "Easy Tour" because this island is quite mountainous. The taxi is waiting for us outside, and the tour on the island is beautiful with a stopover on the mountain top with a visit to the Banana Daiquiri Shop.
Day 2: Saint Kitts: Here too we opt for the "Easy Tour". We get a lot of explanation and drive around the entire island. Cool! The visit to Caribelle's batik shop is really worth it!
Day 3: Barbados: Here I take up the challenge to go with the Tiami Five Star Catamaran to spot turtles and enter the Atlantic Ocean. This will be an experience you'll never forget! The fact that I cannot swim and that it is a very difficult "step" on that (wobbling) catamaran is no problem for these people. They really give me the experience of my life!
Day 4: Dominica: We are recommended the adapted tour around Dominica and through the rainforest and this is another highlight! The walk in the rainforest can only be done for me a little, but I am welcomed with a pineapple-rum drink!
Day 5: Sint Maarten: visit to the butterfly garden and Marigot. I think the butterfly garden is spectacular, although it is not accessible for wider wheelchairs because of the rather narrow paths. After the tour in Marigot we are dropped off at the port in Sint Maarten and on the terrace of the "Greenhouse" I eat the tastiest crab ever at a bargain price!
All these islands are really dream islands … and I already know … this whole trip is unforgettable!
We then have two more days in the sea in which we really don't get bored, there is so much to do on the ship, and then we have to take the taxi back to the airport and fly home.
An unforgettable experience!
A cruise is effectively the most adapted way to travel, although you have to take someone with you who can assist you if necessary. The staff is super friendly and helpful, but you cannot expect constant help from them.
It is not a cheap way of traveling. I paid for everything (taxi to and from airport, flights, hotel with breakfast, 10 days cruise all in, 5 island visits) 3200 €, but it was worth every euro for me!
Wanna see photos?
Look and drool 🙂 in my photo gallery no. 3! 🙂
Links to and from …
Hotel Hyatt Regency Pier 66 : http://www.booking.com/hotel/us/hyatt-regency-pier-sixty-six.nl.html
Celebrity Equinox virtuele tour : https://www.youtube.com/watch?v=lDC30kCborM
Saint Thomas Montain Top : http://www.tripadvisor.nl/Attraction_Review-g147404-d147722-Reviews-Moun…
Saint Kitts : http://www.tripadvisor.nl/Tourism-g147374-St_Kitts_St_Kitts_and_Nevis-Va…
Caribelle's batikwinkeltje : http://www.tripadvisor.nl/ShowUserReviews-g147375-d2645837-r157854647-Ca…
Barbados : http://www.tripadvisor.nl/Attraction_Review-g147263-d278956-Reviews-Tiam…
Dominica : http://www.tripadvisor.nl/Tourism-g147281-Dominica-Vacations.html
Sint Maarten : http://www.tripadvisor.nl/Tourism-g1606588-Sint_Maarten_St_Maarten_St_Ma…
Vlindertuin Sint Maarten : http://www.thebutterflyfarm.com/
Greenhouse : http://www.tripadvisor.nl/Restaurant_Review-g147347-d1046546-Reviews-The…