We were invited to join Mieke and Kenny for an "afternoon matinee" in "De put van TenBel". You can find more information about its history on this page.
Every Sunday from 11 a.m. to 2 p.m. a live performance is organized and this time it was Marc Morgan who got the people on the dance floor.
I was heart-warming to see how – after all, an older audience in particular – enjoyed themselves here. This has clearly been a meeting place for Belgians for years, you can hear and see the enthusiasm when they see each other (again).
The kind of music, especially 70s and 80s hits, can be discussed 😊 but it is clearly mainly about socializing. Sing along, arm-waving seniors whether or not neatly dressed … It's nice to watch 😊.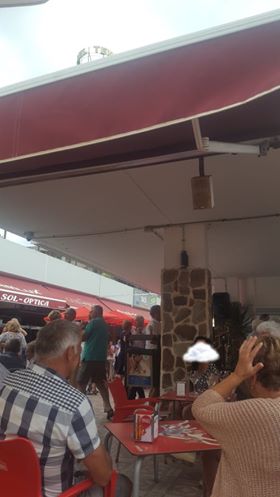 Would I do this every Sunday? No, because here I felt almost retired myself, but it was definitely a great afternoon in very cool company!
You can take the 'well' literally 😊 because you have to either go down a staircase or you can go down through the garage (with your nose to the tower, right) where there is an inclined surface to be able to go up again.
A generally wide accessible toilet is provided, but with a fairly narrow entrance door to access the toilet in the hallway. Not ideal, therefore, and you have to ask the bartender of the terrace where you are to open the (heavy) entrance door.
So … if you are in the area on Sunday afternoons, you have no plans and you want to clear your mind … Then this is a good plan … 😉