The carnival in Santa Cruz on Tenerife is, apart from the carnival in Rio de Janeiro, the largest in the world. And since I stayed on the island during that period, I wanted to go and see for sure!
In a previous blog I already mentioned that I would first go on pre-examination in case of transport.
From Los Cristianos it is about 1.5 hours by bus. There are two bus lines, 110 and 111, but 110 stops much less and is therefore faster.
In the bus station of Los Cristianos I got on and at the end stop 'Intercambiador' in Santa Cruz I got off. Through the Facebook group 'Tenerife for Dutch-speaking people' I had already extensively informed myself and so I knew that I had to take another bus from there.
At the ticket office I was very kindly helped and advised to take the tram because it would be the easiest way to get there. I only had to take the elevator to -1, via the large exit to the outside, then cross the street and there the tram would be waiting.
That's how it was done and it went fine! There was a tram ready to go and the entrance of the tram is actually very easy. There is no difference in level and there is an opening between platform and tram of maximum 5 cm.
However … Tram doors close very fast and since I am absolutely not used to travelling by tram I missed my disembarkation at stop 'Fundacion'. Luckily I spontaneously got help at the second stop and I could get out again without any problem. Phew!
The shaded streets in Santa Cruz reminded me of Barcelona. There was such an atmosphere of tranquillity, flowers everywhere, small terraces … So nice!
I've been touring around for two hours. At Plaza de España there was also a Hop on Hop off-bus that turned out to be accessible as well!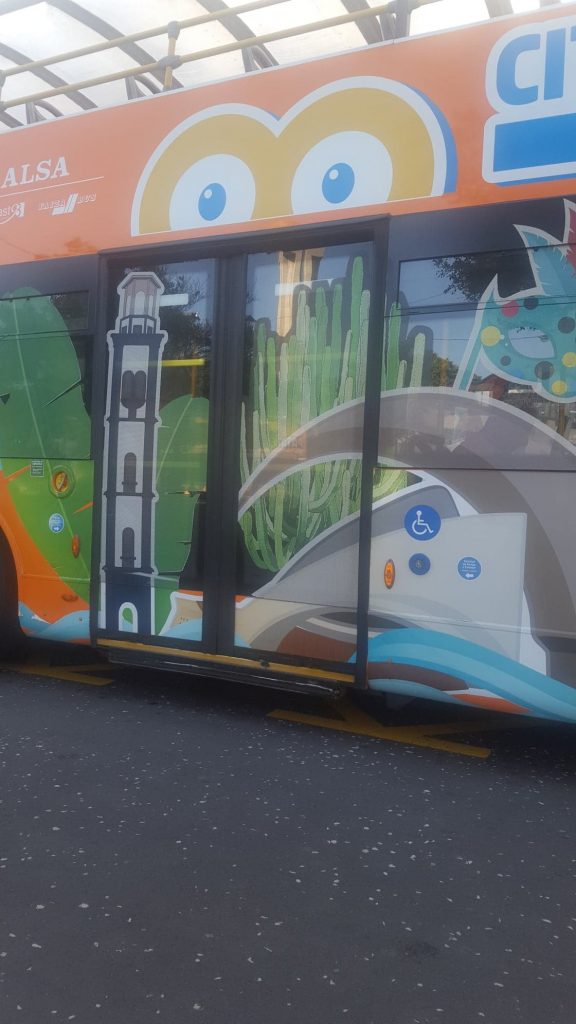 By tram and bus I drove back to Los Cristianos with the experience that this was going to work out fine next time.
However, then from La Tejita where I stayed and where there are few bus lines.
Because I am a big fan of percussion I really wanted to watch the 'Ritmo and Armonia competition'. And so I had to look for transport back to La Tejita.
Again with a lot of tips from members of the Facebook group, I took a taxi from Street Market La Tejita to the bus station in San Isidro. There, a few minutes later, I could take bus line 110 to the terminus in Santa Cruz. From there the tram, where I now knew I had to be quick to get off at the next stop already! 🙂
In the streets and around the Plaza d'Espagña there was now a completely different atmosphere. One of entertainment and fun. Here and there groups were already dressed up very nicely, there were smaller music performances … And everywhere there were food and drink stalls, one more beautiful and exuberant than the other! A feast for my eyes, nose and taste buds!
Unfortunately … Being dependent on tools … Things don't always go well as I described in an earlier blog. The lights of my mobility scooter started to flicker again and went pretty fast to 'off'. So even before the parade started I drove back to the station hoping to get home.
Not …
Falling without power in an environment where no traffic is allowed because of the carnival is no laughing matter.
Luckily, at the moment I really thought, "And now?" two policemen on motorbikes arrived.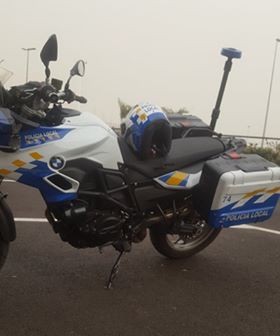 With wide arm waving I stopped them. I explained to them that my mobility scooter had battery problems and that I couldn't go any further.
First they were looking for a solution to recharge on the spot. But because I did not have my charger with me, this was not an option. When I asked if it was possible to have a taxi come, in a completely traffic free area, they discussed this among themselves and called for it.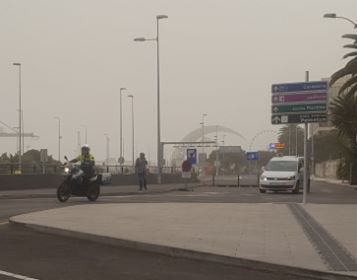 After waiting for about an hour, in the company of meanwhile 3 policemen, an adapted taxi under escort arrived and I could return home.
This was an expensive joke of 83,50€ but I was very happy to be back home despite not having seen a carnival …
That will be for next year!
And then hopefully without a calima because at that moment we turned out to be on the eve of the toughest since 20 years.
Or … how everything in my life has a reason … 🙂
Translated by Katja Brouwers.