In my blog of June 24th I talked about my plan to make a sailing trip with Club Canary on Tenerife.
Nice introduction!
Meanwhile, I met Roy in his office in the Plaza del Duque shopping center. My first observation was that he was a lot younger than I had imagined and his Dutch origin confirmed his quick appearance 😉 .
We had a really nice chat in which I mainly explained what I could and could not do on excursions and how I would 'promote' this in my blog.
That's how 'Dolphin and whale watching' became a reality!
We were picked up by a van from the club at the complex where we stayed. Our driver and captain proved to be very helpful from the very first moment! My mobility scooter was put in the suitcase without any problems and the strong arms of the captain lifted me in a jiffy on the seat 😉 .
We drove to the port of Puerto Colon where the van could stop near the yacht so I had to do as little transfer as possible. Really cool!
They proposed to take my mobility scooter out of the van because there was enough space to drive it over the wooden platform. However, I was able to walk a few meters and with the strong arm of the driver this went quite easily!
For the move to the yacht I was lifted again and put on the couch where the cushions were already ready! What a luxury! 😉
The yacht was spacious and could – as Roy said – take a (small) scooter or a (folding) wheelchair with it.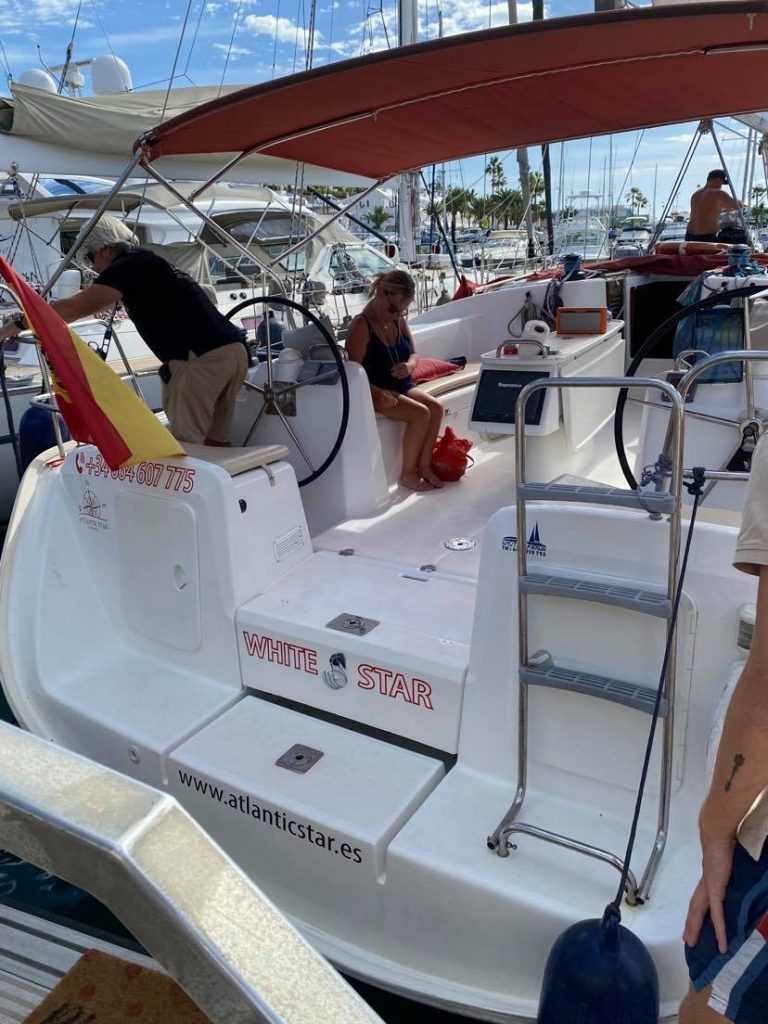 Once I had installed myself, I saw that there was also a family with two children at the front of the yacht. So, corona-wise, everything was fine!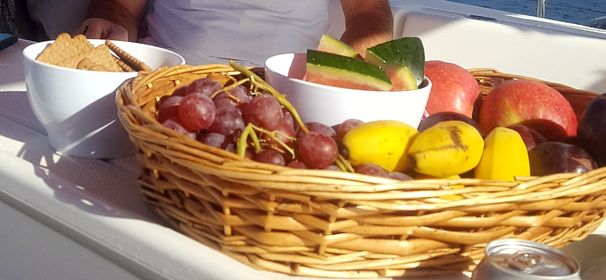 The basket with fresh fruit and the cookies next to it looked very inviting and after some explanation from 'shipmate' Esther and our captain (I knew by now his name was Ricardo 😉 ) we could go sailing!
Wind in the hair and blissful sights … Wonderful!
First we sailed to a depth of 1300m where we would definitely see pilot whales.
The weather gods were very kind to us. I never saw the island of La Gomera so clear. And although the sea was a bit turbulent, we were still lucky to spot 1 dolphin! So much fun!
There were plenty of whales and we learned the difference between a male and a female animal. One has a more curly fin than the other 😉 . It was really nice to see these animals, and usually only the top, 'playing' in the water from so close by.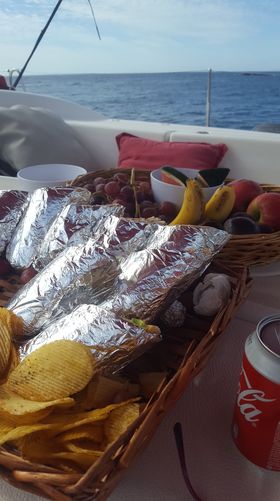 After some bobbing around, the captain started back to sail to El Puertito where we were offered lunch. Tasty fresh sandwiches and drinks of your choice … Lovely!
The one who wanted to could also take a dive in the blue clear water, there was even snorkeling equipment available.
Esther even suggested going into the water with a swimming band for me, and it wouldn't be a problem to get out again. But since I wasn't wearing a bathing suit, I fitted for this but would definitely do it next time!
I had no sense of time, I was just enjoying the tranquility, the beautiful views, the clear blue water … I could sit here for hours in the warm sun …
In between we took pictures and Esther also made them of us, so we wouldn't forget this experience 🙂 .
Mario filmed a piece when he sailed back to the port in Puerto Colon. In between you can hear the voice of Esther who gave extensive commentary.
Watch and enjoy!
Everything comes to an end …
Our trip of three hours went way too fast! The return trip went a lot faster because we had wind with us and in my opinion we were really back too fast 🙂 .
Again I was quickly helped off the yacht, onto the jetty and back in the bus that was waiting for me.
Apparently their photographer also took some pictures, of which I didn't notice anything. But I liked them so much that we bought them.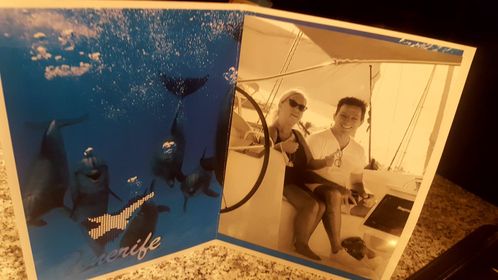 Once on the bus I already knew … I will definitely do this again!
Conclusion.
Roy and his team who work in the office of the Club Canary are really top people. They listen to you and take your needs into account. The boat is certainly accessible but you should be able to step a little. If this is possible for you, be sure to do it! Highly recommended!
During the exploratory talk Roy talked about paragliding. Oh dear … Don't let this be just a child's dream of mine …
To be continued! 😀
More information about this whale and dolphin trip in Tenerife can be found here.
Translated by Deepl.com.