In February, Berte and her daughters Antje and Brechje visited me. The young ladies had heard of Siam Park and had already googled all about this water experience. Of course, this was one of the priorities to do during their week in Tenerife!
As a roller myself, I also wanted to visit this park, but then in the passive form. Because no matter how much I like sitting, lying or hanging in the water … The attractions are really not my cup of tea … 🙂
First the necessary preparation!
As usual, I did my 'homework' first, as I could not find any information on their site regarding accessibility and people with disabilities.
I sent an e-mail to the contact address asking if rollers would get a discount or free entry, clearly stating that we would not be able to enjoy the attractions.
I also asked the same question on Messenger.
On Messenger, I got the quickest response: 'People with disabilities can enter for free on presentation of their Eurpean Disability Card'.
In my mailbox came another message:
For people with official functional diversity of +60% we have special rates:
Blind people have free access.
In case of Autism or Down Syndrome we offer a fast pass bracelet for this person and 1 accompanying person. This allows you to use the attractions with the fast line 1 time, except for the Tower of Power and Lazy River.
You can only get the special price or fast pass at the cash desk of our park upon presentation of the certificate, card or medical form. You will also need to bring your photo ID.
Or … how communication sometimes goes wrong …
In any case, I would go for the first option of course! We ordered online two tickets for adults and two tickets for children up to 2 years, the only ones that were free.
Siam Park, like Siam Mall, has its own bus service, but both are not wheelchair accessible.
We therefore took bus 424 and went from the bus station in Los Cristianos to the Siam Mall stop, from where we walked another 100 metres on the left to the park entrance.
It was very quiet at the entrance, so we could walk straight to the check-in.
Miscommunication … hopefully to our advantage!
There, we immediately received a strange look that I could understand. I showed them my Messenger message on my mobile phone, but we rollers are indeed not babies, so someone was called and consulted. We were kindly asked to follow them to a small office where they explained in Spanish what was happening. Again, I showed them my message on my mobile phone, and on the basis of this they were able to retrieve my mail in their mailbox.
At that moment things got a little stressful!
I understood enough to be able to assume that this 'miscommunication' hadn't happened yet and that for a moment they weren't sure how to handle this, but a few minutes later we were allowed in anyway! For free! Yaaay!
Berte and I first rolled through the park with the girls to find a spot where we could enjoy the sun at our leisure and we could – as always as rollers – keep up with the backpacks … 🙂
Siam Beach was the place to be!
Only … the sunbeds were all in the sand so this was an impossible thing for us to do.
Problem? Or not?
Luckily, at that moment I saw two staff members walking around and explained to them what we really wanted; namely to lie on a bed in the sun just like the others, but on solid ground.
Again they looked at each other and I understood the conversation: 'What should we do with this?' According to them, what we asked for could not be done, so I asked for an explanation. It was about 'leaving passages free and not being an obstacle for others', something I naturally understood.
But there was definitely enough room so I did not let them put me off.
One of them then made a phone call, to higher authorities as it turned out later, and soon Amber joined us to whom I very calmly explained what we wanted. And …. ten minutes later there were two sun beds ready for us on a spot where we were not in anyone's way and so we could enjoy the wonderful weather and the view! Great!
I definetely managed to do that!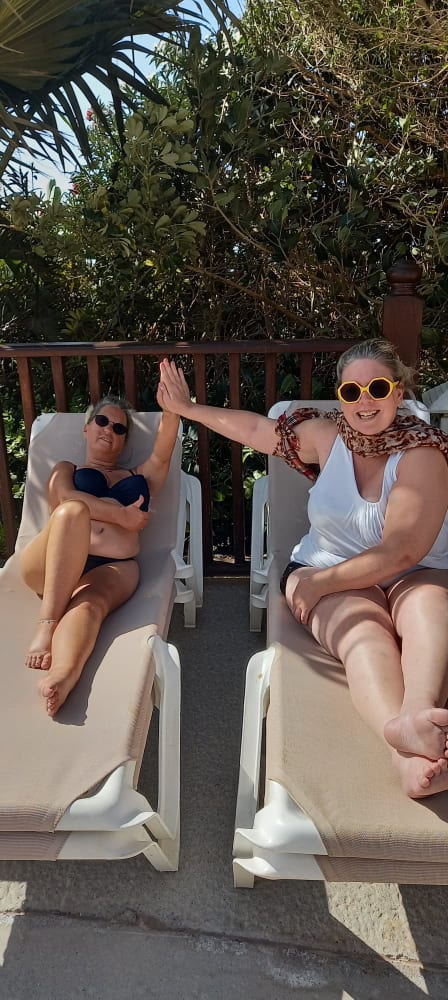 Siam Park is very sloped in spots, but fully accessible!
After an hour and a half, however, we were completely blown out and sandblasted. As you could also hear on the video, there was a strong wind and we decided to look for a quieter spot together with the girls.
The water rides were each nicely made in their own way! But some were so high that I thought, 'Even if I could do it, I wouldn't do it!' Paragliding I didn't find (except for the jump off) scary … But this? No! 🙂
Antje and Brechje alltough had a great time!
Another slide … It was wonderful to see them enjoying themselves so much! Berte and I had so much fun with that ourselves!
After a lot of winding through the park, up and down very steeply in places, we arrived at Coco Beach.
Beatiful rest!
This place was so hidden, I think, with a purpose. It was blissfully quiet here, in the distance I saw Balinese beds on which I could already see myself lying …
The beach was shorter than the previous one, and there was a paved path to the pool itself. How cool was this! With some help we could even go all the way in, but now we just 'paddled' our way … This was also deliciously cooling in the hot sun!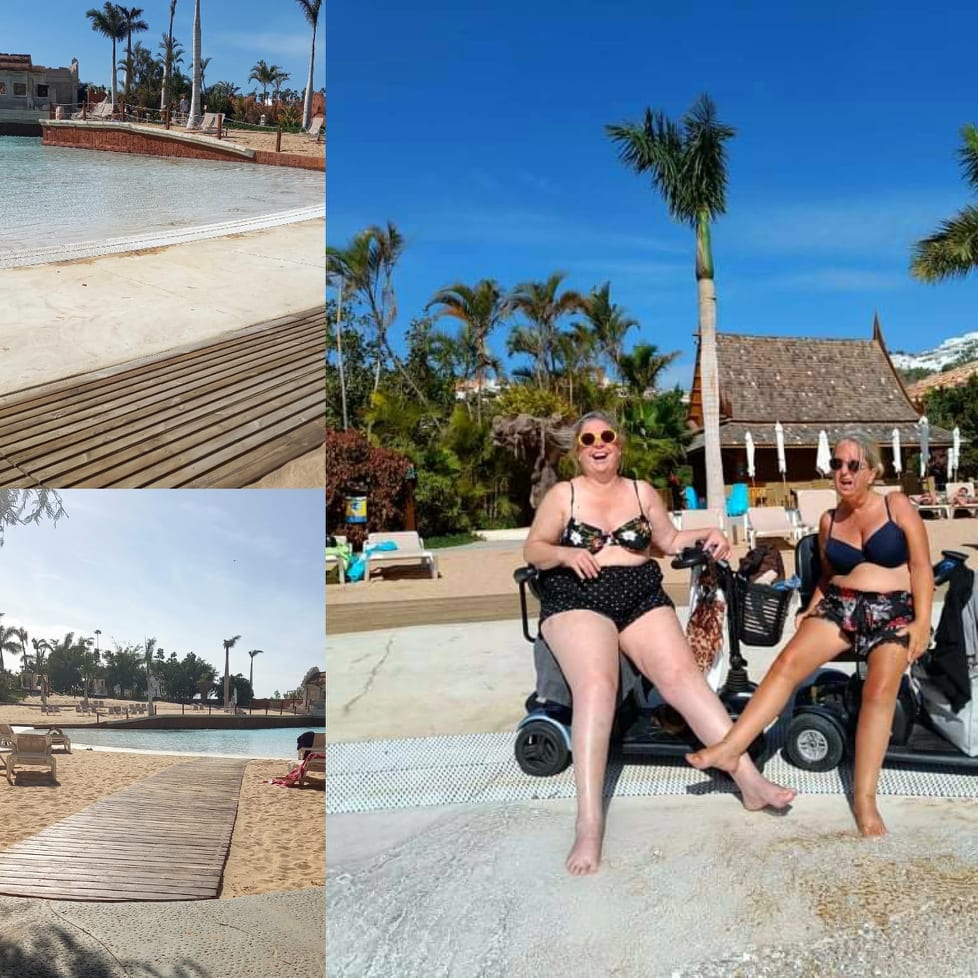 Closure and Conclusion.
After hours of water fun we ended our afternoon at Siam Park and on our way out we met Amber again. She asked if we as rollers were satisfied with the park, because in the future they want to cater even more to people with disabilities.
In my opinion, the park is definitely accessible enough. There is also a spacious adapted toilet in every restroom and the terraces all have a sloping surface that you can ride on and off as a roller.
The attractions are a different matter. For myself (and I think for most rollers) these were not possible. Some are very high to get to, others then again are too wild.
In the beach pools Siam Beach ( consider the waves) and Coco Beach people with a beach wheelchair could get into the water, for example, and (two) pool rails would be a big help.
In any case: I think it is worth repeating. All the more so because the staff really does do what they can to accommodate all kinds of requests as far as possible.
With my blog, I hope to help them on their way with, in the first place, a clear indication of their entrance fees and towards even better accessibility.
Translated by Deepl.com.