I was born in the cold December of 1964. That is why I am probably now always looking for warm places ?.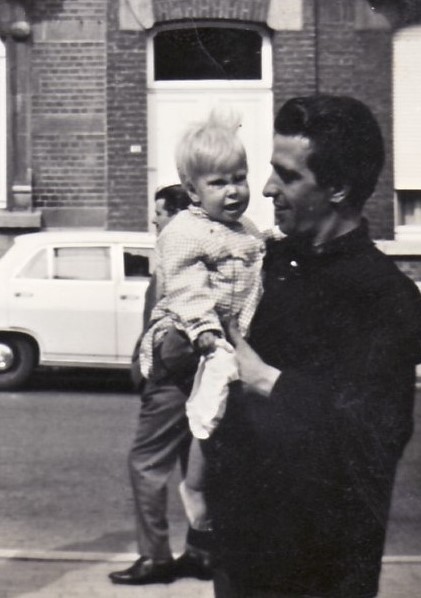 I was born with the "Nemaline Myopathy package", a rare hereditary muscle disorder. I have the high voice and small shape of a young teenager ? and my lung capacity is five times smaller than normal. I can't climb stairs, it is very difficult to pick things up, and if I have to go further than twenty meters, I have to rely on my active wheelchair or my mobility scooter.
Among other surgereys, I had two life-threatening operations, on my spine and on my jaws. Getting a cold is not an option for me, because I cannot cough up mucus. I even went into a coma in 1991 due to pneumonia ?.
At the age of thirty I finally got the right diagnosis for my condition and had found good doctors, thanks to Spierziekten Vlaanderen, the Flemish association for people with muscular disorders.
Go-getter.
Because of my strong character and at that moment very positive gut feeling in 1996, against all advice I got pregnant. The pregnancy went better than expected, but the birth was one to forget quick! The epidural anesthetic did not go as planned due to my previous back surgery. I will save you further details, because giving birth to a healthy son after eight months of pregnancy is an incredible gift!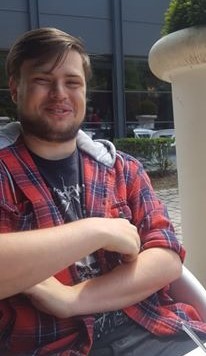 Career.
I worked as a clerk in a supermarket for three years and felt completely at home in my job. From my "glass desk" I could see customers come and go, regularly having a chat and had a lot of social contact.
Unfortunately, I had to stop this job after my severe pneumonia because I could no longer physically cope with having to go outside in windy weather. I really knew the famous "black hole" …
A good year after that I had my first 'real life' contact with Spierziekten Vlaanderen.
Initially, the introduction was very confronting. Seeing people with a much more serious muscular disorder than myself, I wasn't ready for it yet …
But along the way I saw the positive vibe that most of them had here and the "feeling of fellow sufferer" made me decide a few months later to really commit myself to this association.
With my secretarial training and the fact that I was no longer allowed to work in paid employment, I was able to put my egg into it. For about 25 years I was able to share my experiences, I was almost full-time busy with the secretariat, and I helped organize all kinds of activities throughout Flanders.
Time for a new chapter in my life!
In the meantime, I think it's time for something new. My "career" at Spierziekten Vlaanderen has ended in my opinion and I am ready to set new directions.
As a child I was already very interested in traveling, and now that I am getting older, abroad is only luring more!
However … traveling in an (electric) wheelchair is not always as simple as it seems, and my goal is to make hotel owners, restaurants, museums … aware of the lack of accessibility. Or, in the positive sense, clearly communicate via social media how nicely their location has been adjusted!
The photos are made by a simple mobile phone so my focus is on the content ?.
So follow me! Join me on my adventures and enjoy my experiences with an occasional curse, but almost always with a smile ?.
Watch out! Physically limited but assertive!
Nothing happens just like that in my life, coincidence does not exist. And also, a lot is (in my opinion) in your head. If you really believe in something and want to fully go for it, you can overcome a lot. I am small in stature, but I really "get stuck" … not easy … ?.
Facts about me!
coffee drinker
very social, but can also easily be alone
Tinkerbell as an alias, small and (sometimes) naughty
sometimes talk before I think
impulsive
order and structure
emo-chicken, both negative and positive
crazy about meatballs with mustard
enjoy the little things in life to the full
actively working for the city of Hasselt through its

Tourism Department

and

CITYzen

since December 2022 member of

Bloggers Benelux
P.S. You can see more photos in the "Me, Myself and I" gallery on the right of this page!
My blog is created with regular help from …
Myriam Beeckman. I got to know her through – it seems to be somewhere in the Middle Ages so long ago – MSN Spaces. Our love for writing brought us there together and she is now my rock in the surf if I don't get out of the blog puzzle or letters anymore.
Thank you Myriam! 🙂
Karin Moons. My colleague and friend at Muscular Diseases Flanders and as she calls herself, a 'creative jack-of-all-trades'. Her toy egg with layouts and graphic things are a feast for the eyes. Thanks to her, my beautiful logo was created!
Thank you Karin! 🙂
Katja Brouwers. A loyal friend and colleague roller / blogger. She is my "third eye." The person who reads my texts and checks for errors / changes that I sometimes no longer see after working on them for hours.
Thank you Katja! 🙂