I have been to Barcelona several times, in fall and by plane. A very easy and affordable way to do this city trip. However, the person who went with me this time did not want to fly, so we figured out whether we could get there by train.
Was this a challenge for me!
First I requested information by emailing the NMBS Contact Center. Due to my disability, I travel with a mobility scooter and my travel partner was also my assistant. Important to know: the NMBS offers discounts for people with a disability. I received a quick response, but it was clearly stated that tickets could only be reserved by telephone.
Our route became: Hasselt Central Station –> Brussels South –> Lyon Par Dieu –> Barcelona Sants and back again.
The train journey from Hasselt to Brussels South and so to capture Lyon went reasonably smoothly. From Lyon to Barcelona Sants, however, was quite different because SNCF employees only speak French and the person who takes care of English-speaking customers really does not master her second language! Unfortunately my knowledge of the French language is not great either and certainly not on the phone against people who talk very quickly.
For days I worked on this. Finally and through our NMBS I got very friendly and helpful Barbara on the line who could effectively help me further. She then made a number of telephones for me and made sure that I would have assistance on every ride, although she honestly said that this was always "exciting" abroad …
Barbara made sure that I could print part of my tickets at home, another part I had to print at the station in Hasselt because of a certain code that is only accessible to station staff. There I also bought my tickets from Hasselt to Brussels South and back. For assistance I had to call (again) separately, but this was fine.
Monday, April 29, we left at 8:28 am from Hasselt to Brussels South with a 25-minute delay due to a power outage in Tienen. Ok, then it becomes exciting because the 3 following trains that we have to take are not waiting …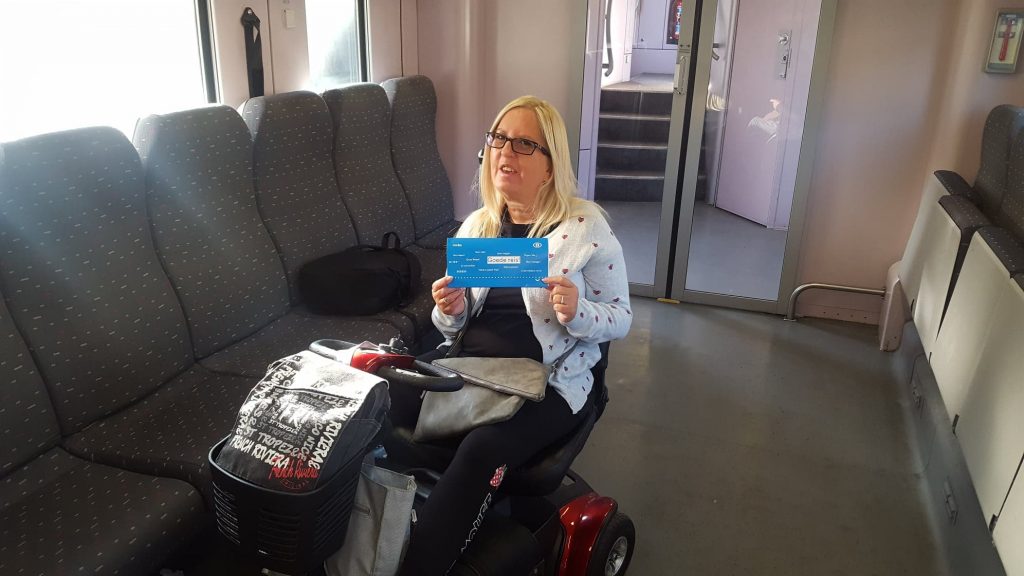 Assistance was ready in Brussels South and walked with us (luckily because it is a maze there) to the TGV that left at 10.33 am to arrive in Lyon Part Dieu at 2 pm.
Also in Lyon Par Dieu there was on-site assistance and from there we were able to leave on time with the next TGV at… That is how we reached our Barcelona Sants end station at…
There we had to wait for a taxi with ramp that dropped us off half an hour later at our hotel in Castelldefels. Phew! Everything succeeded!
The way back on Saturday 4 May went smoothly. Only in Brussels South there was apparently too little assistance, which meant that I had to wait half an hour in the train. I could not get rid of the thought that this was typical again. Everything runs smoothly abroad, and in your own country …
The train ride itself is around 11 am, which is quite long, but we have never had a moment of boredom. You have more comfort than on an airplane, you see beautiful landscapes, you can (if you can walk) to the cafeteria wagon where you can buy all kinds of drinks and snacks. There are also sockets at every seat where you can charge electronics and there is good working wifi! Also important!
Price one way :
Hasselt Station to Brussels South € 7 for me and free for my travel partner.
Brussels South to Lyon Par Dieu € 136.25 for both (discounted rate not known).
Lyon Par Dieu to Barcelona Sants € 107.30 for me and € 40.90 for my travel partner.
Accessibility:
If you have a small turning circle with your wheelchair, you can easily enter the TGV from the ramp / lift. You have enough seating space if you can get out of your wheelchair or mobility scooter, and the space for the (el.) wheelchair is sufficient if there are no suitcases.
The toilet is also spacious enough, but you have to keep your balance when the train is running.
The return trip also went smoothly. In the Barcelona Sants station you go to the counter for assistance, follow the "purple feet" on the ground. Staff with a recognizable orange jacket will guide you to the room from where you will be brought to your train station by people with a red jacket.
A slideshow of the TGV and it's accessibility.
Places that we visited, among other things, with the big advantage: in a wheelchair you don't have to wait anywhere, you can simply cross the (everywhere) meters long queues:
An impression of our hotelroom.
Final conclusion: I paid over 60€ ! for my telephone bill because everything was only accessible via expensive payment numbers. But I would definitely do this again. With the right company and reading material, tablet … to keep you busy, this is a pleasant way to travel!