During one of my previous stays in Tenerife I was already in Golf del Sur, looking for an apartment to rent during the winter months. I spent hours there 'scooting' around on my scooter, looking for the right address, among the golf courses scattered around here and there. The views that I had here in moments were really phenomenal, but the location is not suitable for me as a 'roller'. The landscape is too hilly for me and this is not ideal for the battery of my lightweight transportation equipment 🙂 .
We were told that there would be a nice walk from Golf del Sur to San Blas, completely along the coastline and with a duration of about half an hour. Something to test so together with my friend Carina who is not always 100% mobile.
We took a taxi up to the Winter Garden apartment complex, from where we walked down for 5 minutes and ended up on the promenade along the coastline.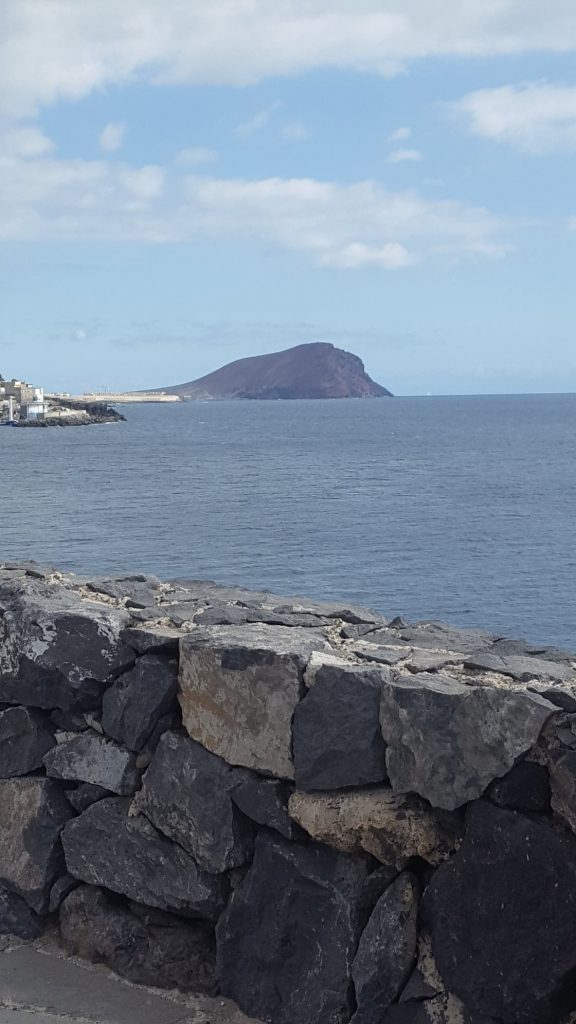 The walk started very well, flat paved path, beautiful view over the sea and a blissful sun … Great!
But then, after fifteen minutes of walking, we suddenly saw people walking a whole lot lower and I thought … Oh dear … stairs?
No, but quite steep down, which is pretty nasty as a roller and even as a good stepper you can feel your calf muscles tightening here I think! This was pretty ok to do with my mobility scooter, but helping a manual wheelchair down or pushing it up is really no laughing matter!
We slowly got down and we deserved a drink! The sun was burning that time and one would get thirsty for less 🙂 . A fresh Appletiser for me and a Cola Zero for Carina on the terrace of El Nautico Terrace were so good! The beautiful view here was of course a bonus!
There is an accessible toilet, but the door is quite narrow. So for a "stepper" it can be done.
After recovering a bit, we walked further towards San Blas.
However … looking back we better turned back there because from there lay loose stones on almost the entire path with here and there fairly deep grooves.
By the time I arrived at our terminus in San Blas, at the Vincci hotel, I was literally and figuratively shaken up 🙁 . Our walk also stopped there because to continue along the coastline you had to go down a whole set of stairs.
I really did not want to turn around and we then walked back along the track, almost parallel to the coastline. Great, after being able to ride a bumpy track on a flat road!

We also passed some restaurants along that road and we went to look around at the Fantasia Bahia Principe hotel. So beautiful!

From there we drove by taxi back to La Tejita.
It was a nice afternoon, but I won't do this again …