The Hard Rock Café in Las Américas is known for its very good cover groups and good food, and let me tell you, this is a perfect combination! I hadn't had the chance to test it yet and together with my friend Karin this was the perfect occasion to see how accessible this location was.
A few days earlier I went to ask if I had to make a reservation with my mobility scooter, but a very friendly desk clerk told me that this was not necessary. Space is always held for people with disabilities.
One word: WOW!
From Los Cristianos we strolled to the 'Golden Mile' in Las Américas. In the evening, the Christmas lights came out quite well, even though neither of us thought it was 'fitting'; palm trees, about 19° and Bing Crosby singing 'White Christmas' … ?
Half an hour later, we rolled/walked down the red carpet (in style, of course!) into the Hard Rock Café and were effectively escorted to a table via a ramp up to near the stage!
This evening's program was 'Tribute to AC/DC' …
… and we were all set!
We ordered our cocktails, and after some doubts (it all seemed so delicious) we could choose something to eat. For me it was the 'Tupelo Chicken Tenders' and for Karin it turned out to be the 'Steak Salad'.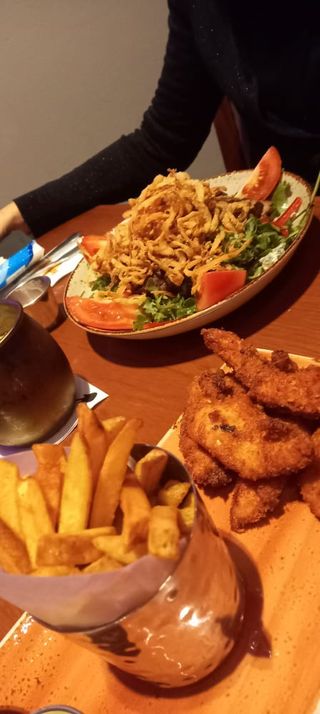 We had just received our salad and chicken strips when the 'wiggling on the music' could begin …
As mentioned in an earlier blog, I have a wide range of musical styles that I can really appreciate.
From the first (really loud) notes we were all in! This band was really, really good!
We sang along, shouted along, stuck out our tongues … It was impossible to sit motionless! We both could not remember how long it had been since we had been able to let ourselves go like this on music … Amazing!
In the video below, the ramp and an impression of the atmosphere …
Drinking made me thirsty and of course I had to have a restroom stop. I loved their logo on the door!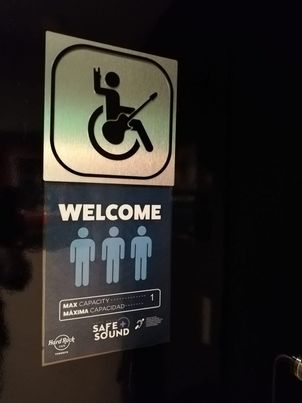 The toilet room was large enough, there were brackets on both sides and a sink were could roll under.
An hour and a half later, after the bis song, we were pretty much as deaf as a dodo and shaken, but oh so happy! We said almost at the same time that this was oh so definitely worth repeating!
The blog image is fairly dark but totally reflected our feeling,
which is why I'm posting it anyway.
We will definitely be doing this again!
Yeah ???