For my job (secretary for an association for people with a muscle disorder) I planned to travel by train to Antwerp Central.
I could arrange the assistance by telephone without any problem and he was also waiting for me when I arrived. The station here in Hasselt is not really accessible, and to change platforms you have to make a detour to cross the tracks with the assistant. Fortunately it was a bright day and the sun was good!
By car I drive about 45 minutes, the train ride is almost 2 hours. But … I have no traffic jams, something that is gradually becoming disastrous in our small country, and no problem finding a parking space. And more importantly, I can do this completely independently with my mobility scooter.
The feeling of independence is so important for mel!

I met my colleagues in Brasserie Royal, a very nice place that has been completely renovated since 4 years and very easy to reach with a wheelchair. There is also a toilet, but for adapted sanitary facilities you have to go down with a spacious elevator. No problem whatsoever.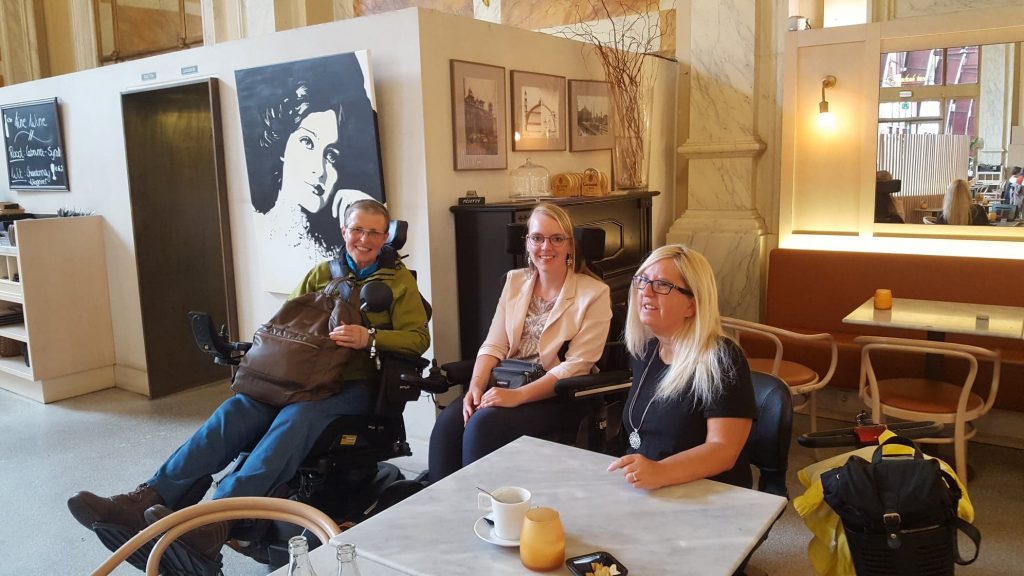 Two hours later we were ready and we could start our return trip. Here too the assistant was ready to help me on the train. However … There appeared to be a delay and he advised me to take another train. That way I could be sure that I wouldn't have to wait very long.
First try.
Ok, then down from platform 6 to platform 11 with the elevator. Colleague Carina said with a smile that she likes traveling by train because everything is so easy. Within our association, she is also the one who is always happy to help you further and correctly if you need information about train and bus journeys. However, she is fairly well mobile and therefore (fortunately!) she has little experience with accessibility obstacles.
On platform 11 I could install myself in the wagon via the platform lift.
Only … it turned out that this train would disconnect at a stop and I was in the wrong wagon. Yeah … why not … 🙂
Second try.
So the platform lift was picked up again, I was calmly helped out of the train and a bit further back in the front with the lift up in the right wagon. Phew!
In the meantime, Carina had left with the promise not to praise 'victory' too soon anymore and I could finally leave the station :).
However, it was not done yet.
When I arrived in Hasselt, the exit was on the other side and the toilet area was in the way, so I had a much too small turning circle …
Fortunately, I am not heavy and not big and my scooter is also a small and light model, so some maneuvering was possible.
Yaaaay!
About ten minutes later, I was able to go down via the ramp and I got … finally … home …