This year there was the 34th edition of the Scottish Weekend in Alden Biesen, and like every edition, this one was top again! The blissful weather (around 25 °) of course also made a nice contribution, but the atmosphere is always very pleasant.
Enjoy without more …
I was there with good friends and we went there without a plan, just enjoying the atmosphere. With a good pint for the men and soft drinks for us girls because we were "drivers on duty".

We first had a look at the market, where you can find all kinds of stands. Selling (according to experts) very good whiskeys, Scottish clothing, jewelry, ornaments … attracts many curious people every year. I am always amazed at medieval clothing. Oh if only I had the model … 🙂 .
Driving sheep through Border Collies was also very interesting to see. Unbelievable to see what dogs are capable of after years of training. Commands are followed by whistles and hand gestures from his / her owner. It was also funny to see how a very young dog, in his full enthusiasm, went way too violently and really had to cool down in a bowl of water after his session 🙂 .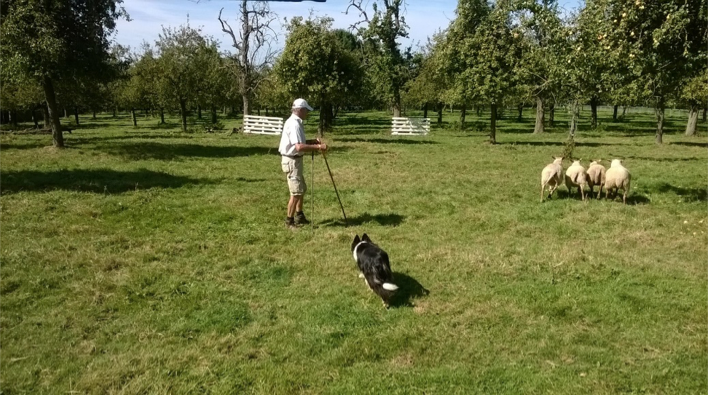 Or watching strong men and women trying to carry heavy weights for as long as possible, keeping oak barrels above the ground for as long as possible, tugging … Gosh … seeing it alone caused me (mental) muscle pain …
I'm an emo chicken …
However, what I enjoy the most and for which I also initially come to this weekend is the bagpipe music. The sound of this instrument gives me goosebumps between my toes, every time. If I hear "Amazing Grace" play live, I need a handkerchief … so beautiful … 🙂 .

Three years ago I got to know "Snakes in Exile" through a friend. A Flemish band that mainly plays Irish and Scottish folk. Their version of "Bonnie Banks of Loch Lomond" gives me the same emotion as "Amazing Grace."
I know, I am an emo chicken … 🙂 . They also played here this year, but … we were in the wrong place … How stupid can you be … 🙂 .

In any case, it was a very nice afternoon and I noticed that there were more "rollers" this year (manual and electric wheelchairs, mobility scooters) than in previous years. The terrain is therefore reasonably easy to do. You can park (paying) near the entrance (in pasture), you can enter for free with 1 attendant and there is a ToiToi toilet.
A bit dusty …
The only drawback with this warm weather: it is a very dusty place and that can also be seen in your "vehicle". Cleaning is necessary after this …