On Facebook I saw an advertisement that Tourism Hasselt was looking for test audiences to help assess a city walk.
This was stuff for my blog and I replied that I would like to join the walk if the weather was dry.
At 1 pm we left at the Tourist Office on Capucienenplein where Diane, the service guide, was waiting for us. We were six ladies of which 2 (including myself 🙂 ) from Hasselt itself. The ice between us was broken quickly because there was a link between each of us.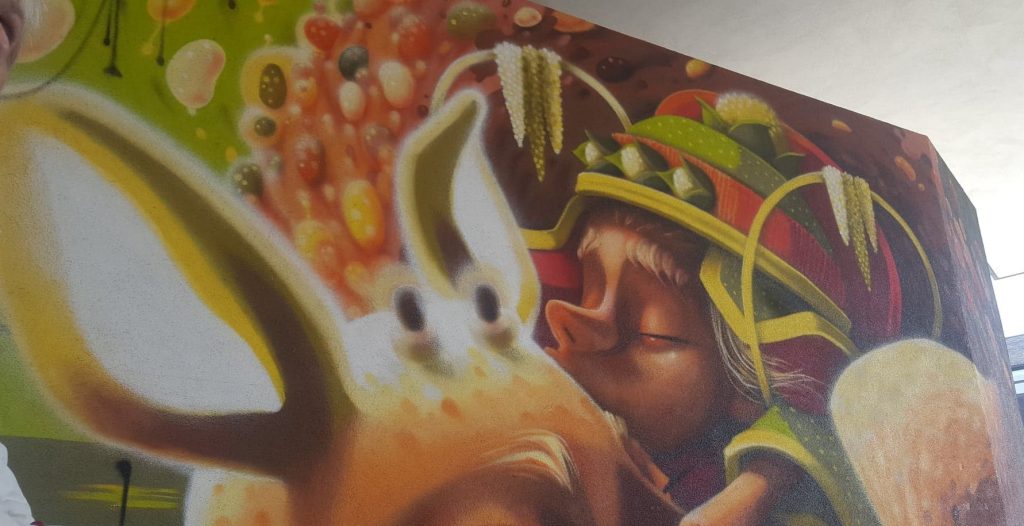 We were immediately given a word of explanation for the cute graffiti artwork on the outside of the building. The "cuddly little man with the deer" shows that everyone is welcome in our city 🙂 .
Borrelvrouwtje en -mannetje.
Liquorlady and -man.
On the Capucienenplein you can see the statue 'Borrelvrouwtje', the girlfriend of 'Borrelmannetje' that is a few meters away. 'Borrelvrouwtje' has not been there for very long, but is gradually becoming a name in Hasselt, certainly around the annual Jenever parties in October.
There were noisy street works in the neighborhood of the 'Borrelmannetje', which made it difficult for Diane to do her explanation, although it was in a short version. I learned here, among other things, that the little Borrel man is not on an ox but on a bull … I am not going to reveal more here, it is up to you walkers to discover further 🙂 .
Hendrik and Katrien.
Via the Vismarkt we walked to our Grote Markt where they were also working. The entire market square will be redesigned and that is why the statue of 'Hendrik and Katrien' was loosened with grinding discs – thus also with a lot of noise – and loaded into a truck. In a few months they will get their place here again and they can continue "Listening to the Carillon".
Virga Jesse-basilica.
The newly redesigned Kapelstraat is no laughing matter if you have to go over it as a roller through the flat cobblestones, although it looks very beautiful, and so we walked to the Virga Jesse-Basilica.
I got married in this beautiful basilica in 1989 and – despite my divorce in the meantime – I still love to come here. I think the altar is beautiful and the two tombs on each side of the center of the basilica are really pretty. Unbelievable when you consider that all this was made with bare hands at the time. Here too Diane told nice facts and things that I hadn't even noticed for all those years. Our guide did her job well! 🙂
Oops, that late already?
When we arrived at our (old) town hall, someone in the company noticed that we were already walking for 1.5 hours, while the whole walk would only take an hour … So this was the sign to decide what we were going to do because there were many interesting places to show in the planning of Diane.
House of Taste.
We then unanimously opted for a shortened version and made another stop at the "House of Taste" in the unique setting of House of the Corswarem. Again a beautiful building, with a very beautiful staircase, and beautiful ceilings.
Great guide!
Our guide did a great job! I found her very pleasant to listen to, she managed to bring everything very interesting and lively and she took accessibility into account. I didn't have a dull moment or less and apparently the others didn't either, because then we would certainly have fallen back sooner 🙂 .

A big "plus" for her, I surely want to go out with her again!
Hazelnut nail.
If you want to go out yourself, without a guide for example, you can do this by following the "hazelnut nails" on the footpaths. You can buy a walking booklet with a city map and a set route from the tourist office, but you can also simply follow the "nails" in the direction indicated by the top.