On a Sunday afternoon when it wasn't too hot, I got my son to go for a walk. The agreement that the route I had chosen wasn't long and that a nice terrace could be attached to it, was a plus! 🙂
I had already heard about 'Walking in the trees' on TV and read about it here and there and this seemed interesting to me. Hechtel-Eksel is a good half hour drive by car from Hasselt, so that distance was also very easy to do.
We did not find the free parking mentioned on the site. Probably two of us looked over it. We are good at that, at not finding something you stand with your nose for 🙂 .
So we drove to holiday centre De Lage Kempen where we parked our car and then walked back a little bit to nod 272 which can be recognized by the sculpture 'De boom in' (The tree in). It's hard to see next to it!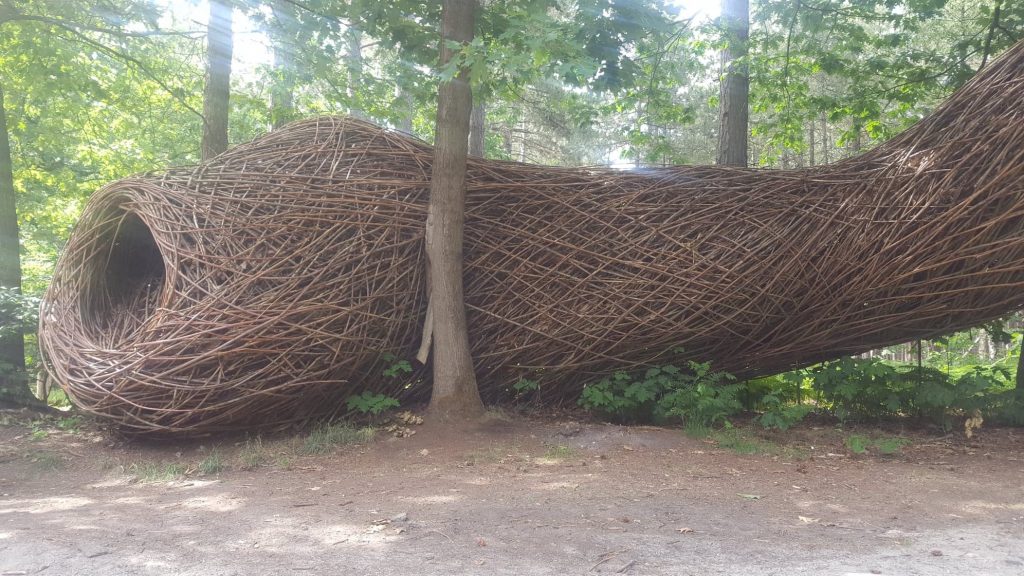 Many walking and cycling tours depart from this node.
We saw cyclists, mountain bikers, families with children and also a single hiker pass by. The ice cream booth that was there was a success!
From this node it is about 300m walking on a pleasant asphalted path. The peace and quiet were blissful! The scents of forest and flowers were delicious after sitting inside for a long time in corona!
At this 'signpost' you walk left, another 100m, to the walking and cycling path through the trees. My first idea was 'Wow that's high!' but very nice!
The whole length between the trees is about 700m and in terms of gradient best to do. Once at the top you can look very far and it gives a very nice feeling when you can look between the trees from so high down.
You can't be afraid of heights! 🙂
Heights are no problem for me, as long as I'm not standing on a glass floor and preferably with a fence. One never knows… 🙂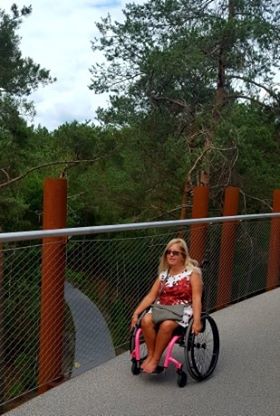 After this tour we walked back to the car and drove to the promised terrace.
Castle Brewery Ter Dolen has a spacious and beautiful terrace and is – as the name suggests – mainly known for its beers. You can also eat tasty things like a cheeseboard with bread.
The toilet is not ideal because you first have to go up the sill and there are no brackets.
Conclusion.
We had a very nice afternoon but I didn't think it could be repeated. The 'Walking through the trees' alone was too far away and we didn't find the terrace of the campsite nearby inviting enough to stay there.
But if you combine this with another attraction in the neighborhood, it's definitely worth it!
Featured image comes via Facebookgroup 'Cycling through the trees'.
Translation by Deepl.com.