I saw this quote posted by Cory Lee, a very life and travel loving young man with SMA2. Ever since before I blogged myself, I have been following Cory because he is very inspiring and I read many recognizable situations with him.
Early July, he had a flight with Delta Airlines where his wheelchair was badly damaged. He posted this -of course!- on his social media and it was widely publicized. The airline did make sure his wheelchair was repaired in two days, but still …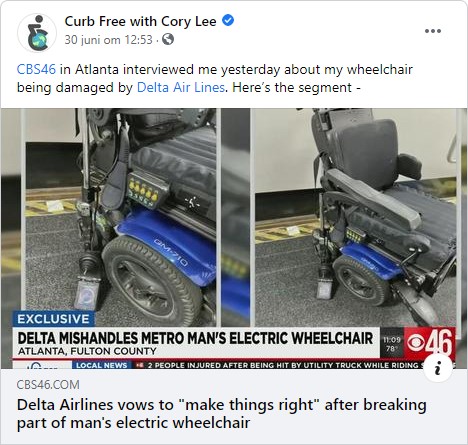 This article triggered me because I have experienced this myself.
I just had my flashy pink 'Tesla' when I flew to Barcelona with it. When I landed in Barcelona my wheelchair was just as fancy, but on flying back to Brussels my heart broke when I saw it …
The pink brackets were very scratched and black traces of whatsoever were clearly visible … 🙁
I then immediately took pictures, and went to the 'Lost and Found service' where I filled out a complaint form. A few days later I received a message from them via email that I could get a cost estimate and that the airport would reimburse me.
For me, the damage was not so bad because I am not totally dependent on my wheelchair.
But for people in an electric wheelchair who need it every day, this is a big problem. I also understand very well that rollers really do fly with a small heart when it comes to their aids. On my mobility scooter I also take off everything that is not really fixed, like lamps because everything 'disappears'.
It is absolutely clear that there is still a lot to be done here, so that everyone can fly to any destination with real peace of mind!
Translated by Deepl.com.