A B&B Hotel in Hasselt had been advertised for a long time through all kinds of channels, and the opening date was postponed several times for all sorts of reasons.
But then, in April, the doors finally opened and I went to check – of course – to what extent this was wheelchair accessible.
Rolling in was possible through automatic sliding doors, a ramp in two parts, and then back through doors that opened silently as soon as the camera saw me. Easy!
I introduced myself to Kimberley, a young and very easygoing receptionist with a spontaneous appearance. Because I had been touring for a while I had to take a sanitary stop, and she led me to the restroom in the breakfast area.
I immediately noticed the logo on the door and Kimberley told me that every toilet in their hotel has been changed.
What? How cool was this! What a great start to this hotel check!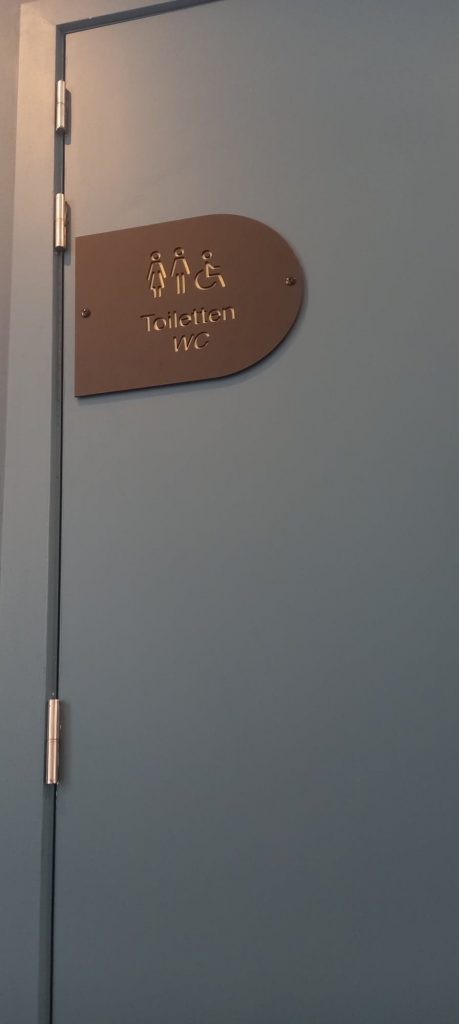 After checking with her colleague, she walked me to an adapted room on the first floor with the promise that I wouldn't touch anything because all the rooms were reserved.
Through the elevator, we went upstairs, through a carpeted hallway, and the door was opened by Kimberley with a code.
We entered a `portal' where, on the left, was the spacious bathroom, with walk-in shower and – remarkably for me – a shower chair that was height adjustable!
To the right was the very bright and open-feeling bedroom.
There was a double bed with plenty of room for a wheelchair on the left and right, and a single bed with plenty of room on one side as well.
The small minus point here: The beds are not wheelchair accessible, but a solution is being sought for this.
The passage to the bath and bedroom was completely flat. The bathroom has tile flooring and the bedroom has some sort of vinyl with a wood look. Very easy to roll over.
We took the elevator back downstairs where I took some pictures of the breakfast area and the very cozy reading/meeting area. Here too, beautiful colors were used which gave the whole place a cosy feeling. I could easily maneuver with my mini scooter between everything, and also the tiles with a parquet look were easy to roll on!
A few days after my visit, I had a very nice meeting with Joris Keimes, the manager of this hotel.
While having a coffee, I told him about my very positive findings. He would certainly pass on my tip about making the beds easier to move to the carpenters.
General information about the room.
Seat height toilet 47cm
The shower stool (min 39 cm – max 49 cm).
Height of the beds, measured top of mattress 60cm
The sizes of these beds 160200 double bed and 90200 the single bed. The rooms are always triple rooms.
The adapted rooms are not identical with the same beds, but have the same facilities all.
Assistance dogs are certainly welcome.
Conclusion.
B&B Hotel Hasselt is a recommendation! The location is super, is within the small ring of Hasselt and so you are also close to the center. Plenty of choice for shopaholics, an overflow of places to drink and eat in all sorts of styles …
Parking is available on Dusart Square or Blue Boulevard (much cheaper price!) Right next to the canal, both about 300m walk from the hotel.
A bonus!
My blog followers are offered a welcome drink (soda, lager, wine, or coffee) when they mention 'Dreamwheeler Nadine' at the reservation. Nice right?
Also, if you let me know that you booked there, I would love to do a terrace with you. You can always contact me via a comment here … 😉
Translated with www.DeepL.com/Translator.