Click here for part 1.
Wednesday afternoon we leave again, packed and dropped and now for a ride of two hours towards Lodz.
As "part of the animation team", I have provided the right music, namely "Theo wir fahr'n Nach Lodz" and the Gentens sisters are singing along again! So there is no moment missing in atmosphere! 🙂
The drive to Lodz goes smoothly, but we soon notice that the inner streets are very bumpy and that there is still a lot of work to be done here. For Joshi the broken streets are bad and my body is also bothered by this. We are very happy when we see the imposing hotel building in the distance and can check in quickly!
High expectations.
Double Tree by Hilton is a hotel with 200 rooms and (only) 2 adapted rooms. Checking in is not that smooth. We notice that the people at the reception don't speak English fluently and we hardly speak Polish. But, as is often the case during our outings, patience is again a fine virtue :).
The adapted room is not very spacious, and the thick carpet is a curse to drive over / step on. The – okey small – threshold to the bathroom is a second point that makes us frown. A transfer up to 3 times a day with a hoist is not a joke with this …
The bathroom, on the other hand, is ok and the beds can easily be moved. So also positive points … 🙂 .
However, I soon get the feeling that we are better used to it and when I think that we will be here for 8 days, I sigh a bit because I expected more from a Hilton Hotel. My mistake … 🙁 .
However, I soon get the feeling that we are used to a better level of comfort and when I think that we will be here for 8 days, I sigh a bit because I expected more from a Hilton Hotel. My mistake … 🙁 .
During our stay here we notice more and more that the staff is not working with pleasure. The very extensive buffet is regularly refilled, but there is hardly anyone who does his / her job with a friendly face. They also constantly turn around the table to clean up, even when your plate or cup is not yet empty. This really annoyes us and after a few days we talk to the person in charge of the staff. However, she is also not very friendly and we notice no difference the days after. Later we hear from the hotel manager that he is aware of the "grumpy" staff because there were still complaints. So it's time to do something about this!
The hotel also has a swimming pool on the highest floor, accessible by elevator. However, the space is very small. There are five loungers, so you can barely enter a wheelchair. The shower room here is ok!
The location of this hotel is great. From here you look at a nice quiet park, you are within walking distance of the Piotrkowska street, by car fifteen minutes from Manufaktura and – most importantly! – fifteen minutes from the Atlas Arena where the European women's volleyball championships will take place and for which we ultimately are here too.
Sidewalks with challenges.
To explore the neighborhood a little, we walk the first day to Piotrkowska Street. The way there is with "challenges" in terms of pavements. In several places we have to make a detour to get on or off.
We were told that this would be one of the longest shopping streets in all of Poland and completely renewed. Part of this is correct. The street is more than 4 km long, but only a part of it is effectively very nicely renovated and very accessible. This part has many terraces and shops of all kinds. But here too … few shops are accessible, so again … economically "walking" 🙂 . However, the buildings are also beautiful here again! I can't get enough of the magnificent facades and statues that you see everywhere here.
We notice again how cheap the food and drinks are here. Several times we think we are mistaken when converting to our Euro. The Zloty is equal to the amount in Euro, divided by four. I hereby consider that it must be very expensive for Polish people to come on holiday because for us these are bargain prices.
The Polish cuisine is also very tasty, and if you like mushrooms and garlic you are definitely in the right place here! 🙂
No more 'economic walking' … 🙂 .
Because it stays very hot these days and our hotel does not have a terrace, we have to look for the coolness somewhere else. And so we end up in the Manufaktura.
This is a completely new complex that incorporates art, shopping, recreation, eateries, etc. and is fully accessible. After walking around here for an hour, we know for sure that "economic walking" is over, because you can also do bargains in clothing and shoes, for example! 🙂
All the dining options here, all with their own accessible terrace, are very nicely decorated and the staff here are a lot friendlier than in our hotel. Very pleasant!
We wander around here several afternoons. The air conditioning in the shopping section is a bliss and the thought that my bank account will moan when we get home I consciously push away 🙂 .
The reason of our visit to Lodz … EK volleyball Yellow Tigers!
And then the European Volleyball Championships for Women begin. Poland turns out to be the volleyball country par excellence and we are very curious what our Yellow Tigers will get here. They also stay in the same hotel as us and so we regularly come across them at breakfast and / or in the evening. Joshi and Carine are acquaintances for them and that means that I am quick in their enthusiasm.
For me it is the very first time that I really participate in a sporting event, for Joshi this is one of his many favorite things to do and I am very happy to be dragged along! Joshi knows our national anthem from the outside. Monique, Carine and I … not yet … So practice in the car! 🙂
The entrance for this event is – again – very cheap and also drinks and food costs hardly anything. A big difference if you think what you pay in the Lotto Arena, for example!
The Atlas Arena is quite large if you are inside and the atmosphere is great very quickly. We are with 15 supporters with a yellow t-shirt and hat and at every point that is scored I am absorbed in the great feeling of "smelling the victory" 🙂 . Our Tigers lose some matches, but the most important, against Poland itself … win! To the great displeasure of the Polish supporters, who call "boehhh" at every point for Belgium. This is of course great and well deserved for our players!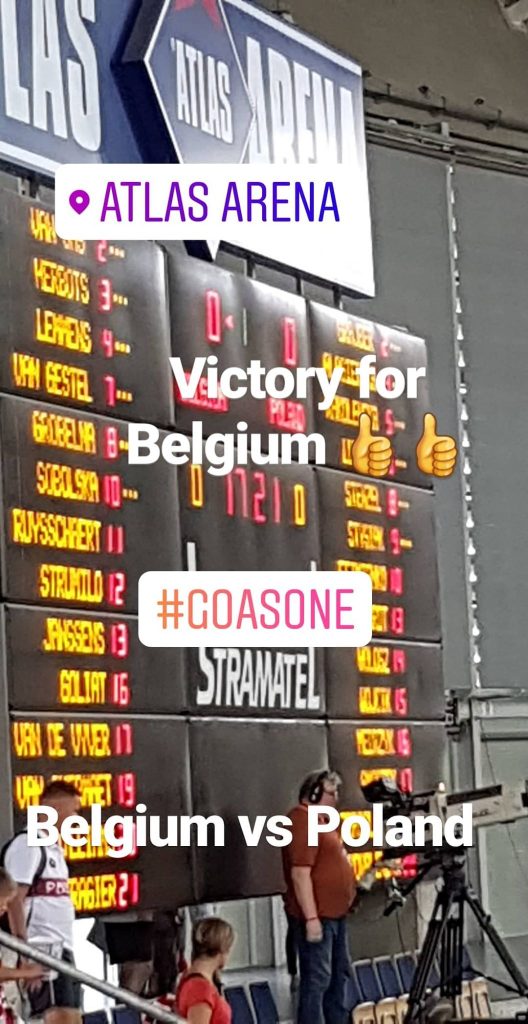 We drive back to the hotel in a euphoric atmosphere and capture this on a photo!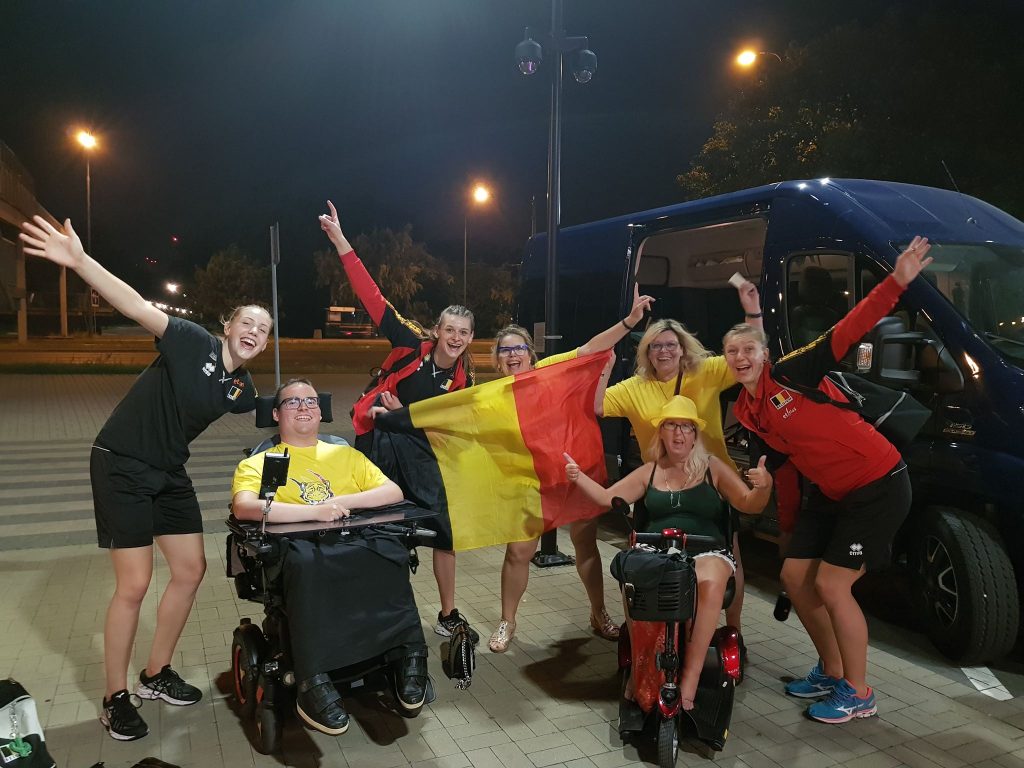 Back home …
And then our stay in Lodz comes to an end. After 8 days we check out in a hotel where all 4 of us expected much more.
First stopover, Berlin.
We make two stops on the way home and the first is at the NH Hotel Alexanderplatz in Berlin where we arrive in the early evening. The welcome here is super. Because we only stay one night, we can leave our car close to the entrance instead of having to park in one of the side streets.
The adapted room is also very pleasant. Lots of light and space, wooden floors and a spacious bathroom without a threshold. Unfortunately, I forgot to take pictures. We were too tired … 🙂
For dinner we may sit down at the buffet that is served for a large group who arrived by bus. According to the chef, there is more than enough and that appears to be so. Very tasty and at a very affordable price, eating outside on the terrace. Great!
Also the breakfast the day after is more than ok 🙂 .
Second stopover, Dortmund.
From here we leave for Dortmund at noon for our last stop. After a 6 hour drive we can check in at Parkhotel Wittekindshof. Parking here is not that simple because there is a music event at the hotel that evening, but we are allowed to park the car right next to the entrance. Friendly and understanding staff is priceless! 🙂
The adapted room is very spacious, but with (low pile) carpet and a small annoying threshold to the bathroom. The bathroom is also spacious and easy to use. The beds are raised but not high enough to be able to get underneath with a lift so that Carine must use her creativity to solve this. Luckily there are books that can be placed under the bed legs! 🙂
Although we did not make a reservation, we can still dine in the restaurant. The terrace is well-filled by the soft evening air and the room staff is happy to make room for us. The space is a bit tight for an electric wheelchair and a mobility scooter. We eat here – finally – a Wienerschnitzel and luckily I asked for a children's portion because the pieces of meat fill our plates! Very tasty indeed!
Again we are happy that we can crawl into bed. The hours in the car and the tiredness of the last days are starting to weigh a little. We enjoy our last night and even more of a last extensive and tasty breakfast that is ready in the morning and pack our bags one last time …
Final conclusion.
A road trip is very nice but – let's face it – quite tiring. 5 x other beds, packing and unpacking suitcases …
And yet, I would do it again. Traveling by car gives you the chance to see a lot, beautiful views, a Mc Donalds every 5km :), nice tank staff :), you can stop whenever you want …
And … the hilarious moments in the car … great … 🙂 .
Hereby also a big 'thank you' to Carine, Joshi and Monique for taking me on this very new cool experience! 🙂