Music has been a very important factor in my life from an early age. I can be touched to my toes by, for example, the 'Panis Angelicus' or go completely crazy on 'Liquido' by Narcotic.
Concerts in the cold months and festivals in the summer are totally my cup of tea!
Celine Dion, Mayumana, Kelly Family, Ennio Morricone… All goosebumps music in a hall.
Faithless, Kings of Leon, Tiësto on Werchter or Suikerrock for example where I had muscle ache everywhere the other day because I couldn't sit still for five minutes. All worth it, each in his kind.
The best combination of two extremes remains so far from July 2017 to celebrate Carine's birthday!
On Friday we drove to André Rieu at the Vrijthof in Maastricht and the day after to Boom for Tomorrowland!
Waltzing and rocking.
Tickets for André Rieu had to be ordered via a separate telephone number which gave you a wheelchair space with 1 assistant. These places were not ideal because they work without a platform, and every time people stood up (regularly) you didn't see anything anymore. But large screens made up for a lot and the atmosphere was great!
For me it was the third time I saw him live, and certainly not the last time!
Dance and bass.
For maps of Tomorrowland it was a completely different story!
Even though we as Belgians had the chance to be the first to buy tickets for several years, ticket sales always ran like an express train and you had to be very lucky to get in!
Our 'lottery ticket' was girlfriend Carina who could get cards. The moment I heard that we definitely had cards I jumped as they say 'a hole in the sky'! And another hole when we received the mail parcel from TML! It contained a very nice music box, with the entrance bracelet, a map and an explanation of the theme that year 'Amicorum Spectaculum'.
From then on it was 'all for real' and I could also find out what was going on with accessibility.
For almost all concerts and festivals you can go to Inter. They provide a parking place as close as possible to the entrance, assistance to and from the podiums, if necessary for toilet visits, and wheelchair spaces with 1 assistant.
Tomorrowland, however, does not coöperate with anyone in this field. I was told on the phone that they had everything under their own management and they assured me that this would be completely in order.
As a light control freak, I had my doubts. An event where more than 400,000 visitors meet on two weekends without a separate assistance service present. I had to see it first and then believe …
My amazement was enormous when I noticed how indeed everything was taken care of!
We had to search for the right parking place because there were different terrains, but with my blue card I was allowed to stand right at the entrance.
The whole domain De Schorre was dipping into a magical atmosphere and almost every act was accessible with my manual wheelchair! Near the toilets there was someone who gave you a key with which you could enter. This to prevent abuse, and if necessary they were always willing to help. So cool! So my fear was absolutely unfounded!
What really struck me was the incredibly nice and friendly atmosphere of the whole event. Nowhere have I ever experienced such helpfulness and tact from festival-goers. People were partying and dancing by themselves when they saw us coming. When we had a rainstorm they made room for us to take shelter without any problem.
In spite of Carine's fear I had to be at the front of Dimitri Vegas and Like Mike's performance! And yes I admit, it was really thrilling to be in the middle of such a crowd, but at least I wanted to try!
But also here, unbelievable, no problem at all! People were making room on their own so that we could – just like Moses through the sea ? – hit right in front of the stage. And it got even more exciting when they announced their famous 'The Hum' with the question if we were ready for a dance!
I had a moment of 'Spanish mugginess', but also here everyone around us kept an eye on us and kept their distance. So close to the stage I almost bounced out of my wheelchair but I loved it! I never thought I would experience it this way, together with Carine!
When some guests asked her if they could lift me up she pointed to me to ask. And I was like 'YOLO' and of course it was all finished!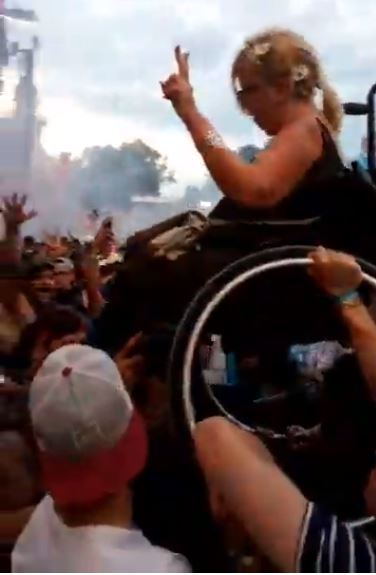 When I hear the song 'Complicated' now, three years later, I'm back in the middle of the crowd in a flash and feel the atmosphere again! I don't know if I'll ever have the chance to get there again, although I would love to!
In this post you can read how great TML indoor was last year! ?
Translated by Deepl.com.