For 10 years I live in the 'Heilig Hart-district' in a very quiet area, just outside the city centre. A small neighbourhood shop is within walking distance, just like a Carrefour, and we reach the station after a fifteen minute walk.
When the weather is nice I regularly take my scooter to the centre.
Hasselt is known for its mostly accessible shops and especially for its cozy terraces. Let that last be one of my hobbies! Enjoying the sun with a coffee and watching people walking by … Great!
After months of great work, and with moments of traffic chaos in the entire neighborhood, Quartier Bleu is ready. I've been looking forward to this! A new living/shopping project on the Blauwe Boulevard next to the Albert Canal and 7 minutes by scooter from my place. Ideal!
As always, you have supporters and opponents, but I like the whole concept. The shops are all fully accessible. Where necessary elevators are placed so that you can really get anywhere as a 'roller'.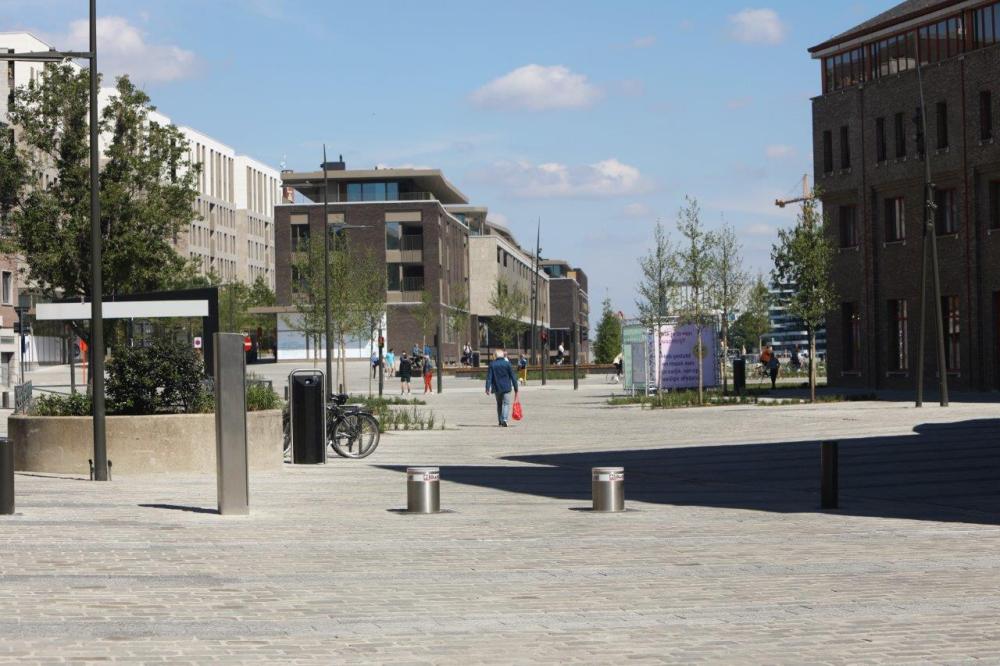 If you walk into Quartier Bleu from the city centre over the Verbindingsplein, you can take the elevator to the right to go down to the quay via 'K'. This is also the entrance to the underground parking garage for 1800 cars with a height of max 2.10m.
On the quayside you feel like you're on holiday! The inviting terraces, benches, the waterfront … With nice weather I really don't have to go to the south of France, so to speak, because here in Hasselt we have our own Nice! Regularly (luxury) yachts are moored here. You can see pleasure boats of all kinds lying around and passing by. On Sundays you can also see kayakers gliding over the water, one more experienced than the other.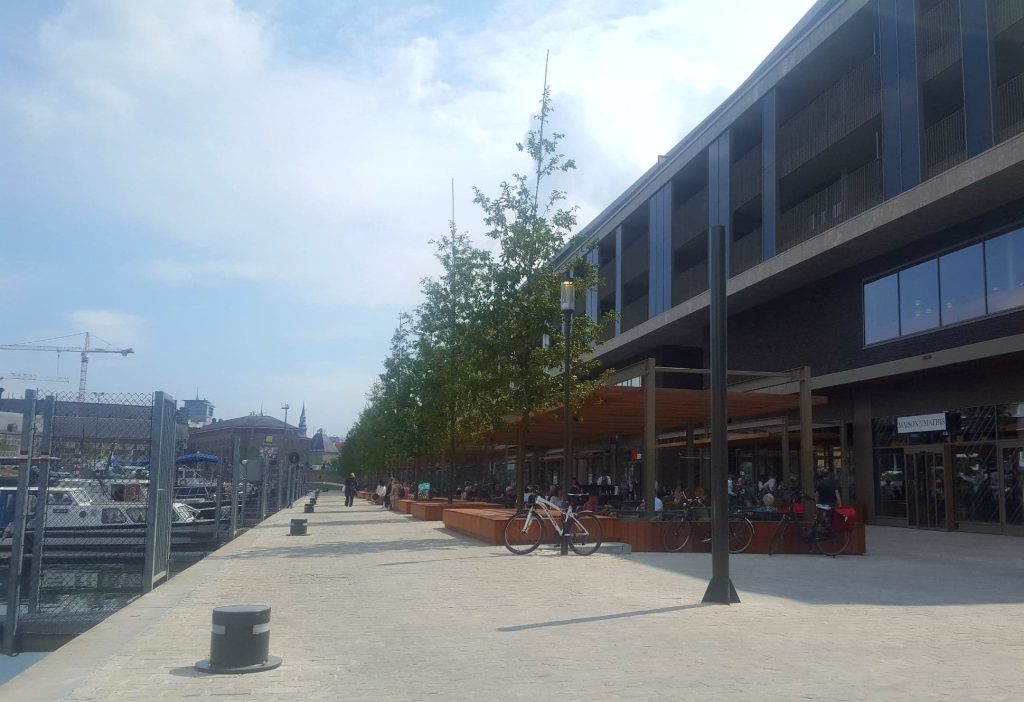 There is plenty of choice when it comes to restaurants! Spanish, Italian, meat or fish … It becomes difficult to choose when you are in a group.
Accessibility is no problem in these locations. Most establishments have a toilet where you can go without stairs.
I tested Blend by Rauw, a restaurant in very fancy steampunk style. The manager saw me drive in and immediately laid their sloping surface so I could bridge the steps and go to the adapted toilet. Brackets were to be ordered and after testing it turned out that the inclined plane was very steep. Here they promised a solution.
Also sandwich shop Panos has a spacious accessible and adapted toilet.
The other catering establishments are still being checked. You can find every location I visited in my accessibility list.
If you walk past the terraces you can take the elevator back up at the end. In this part – next to a spacious Delhaize – there is also a public accessible and adapted toilet. You'll find it past the Dreamland toy store, at the far left at the end.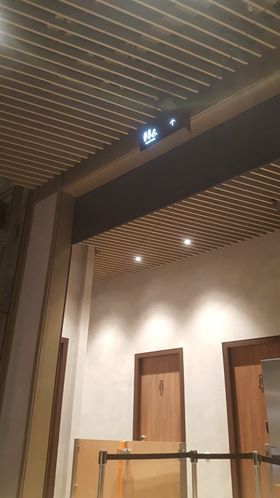 I don't think this has been thought through enough. As a roller you have to go around two corners because the toilet is a bit 'hidden' in the back left side. The space should have been bigger because you can barely reach the toilet with your wheelchair. And a point I will never understand: a (often heavy) pump at the door of an accessible toilet, just like here. How to get outside as a roller when you need your hands on your wheels … Sigh…
But! With the spacious elevators you can go back upstairs and if you press 'P' you'll end up on the shopping street. I found the elevator buttons very unclear the first time. P' appears after some searching and trying to be the Panorama height and not the parking space … In the process one learns!
Here are mainly shops located such as H&M, Fnack, JBC, Mano … On both sides you have a wide walking lane, and in the middle a bicycle lane where also cars can pass during certain hours.
There are benches here and there so you can enjoy a moment of rest.
The only real disadvantage in this whole project is unfortunately the cobblestones. And even though they are flatter than the old-fashioned form, it remains a dull misery to roll over here. With a mobility scooter this can be done reasonably well. But in a wheelchair you really 'rattle' and so I mainly use the middle lane.
When I asked the city services about the why of using these stones, I was told that they are much more stable than any other pavement.
Grmpffff…
But when the weather's nice, I like it here. A take-away coffee or some fresh and ready-made food at hand and I am completely satisfied!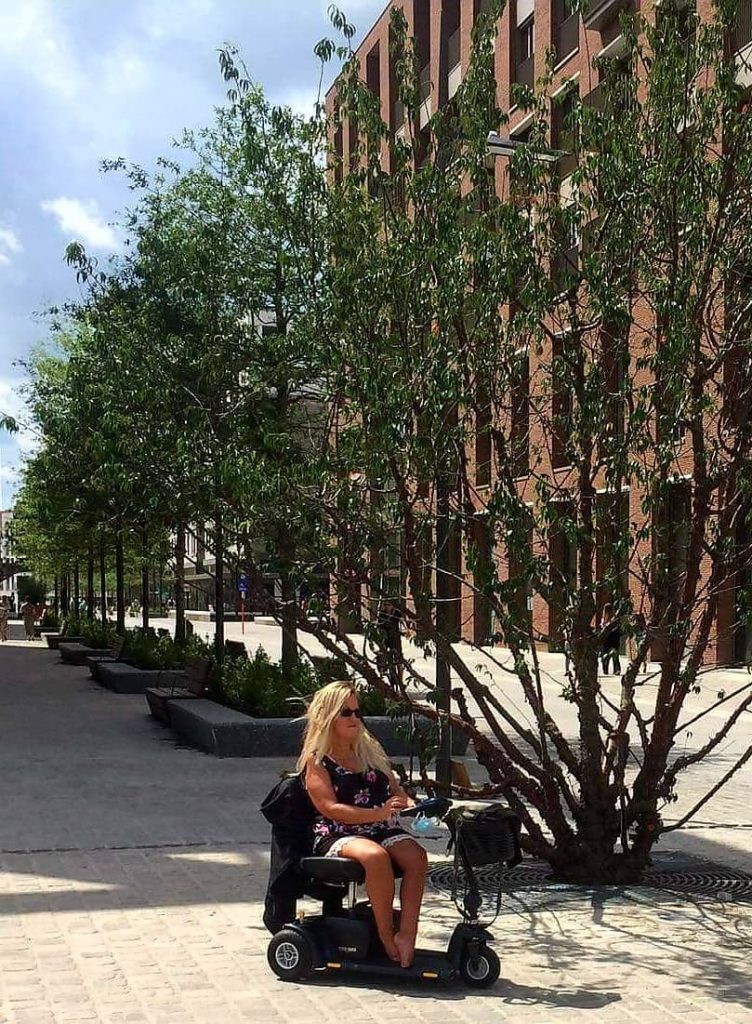 So you'll find me here a lot, and if you ever need a guide just let me know! 😉
Translated by Deepl.com.