When you see the Japanese cherry blossoms, you know that spring is really here! This year, they were already beautiful in the last week of March, but we had to wait until 1 April for the official opening from the Japanse Garden to admire them from nearby.
Still in the corona era, reservations had to be made online and time slots were used.
Because beautiful weather was predicted, I absolutely wanted to go there on 1 April, but the online reservation did not work. After a phone call and an email to the Hasselt Tourist Office, it turned out that the site was overloaded, so they arranged it for me.
Thanks to my Uitpas I had free entrance, but my EDC-card also gave me free entrance together with (my assistant) Mario.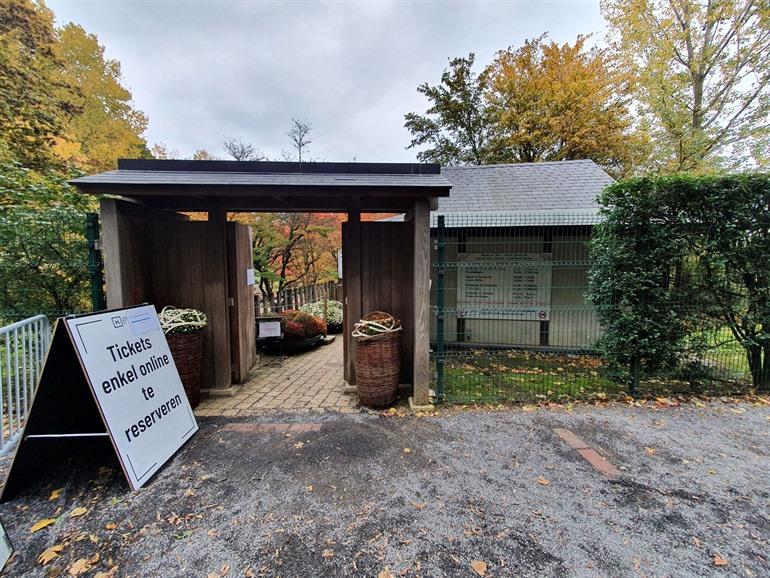 After queuing for a while – and with a distance – our entrance card was also checked, and we could enjoy the Japanese beauty!
Arrows guided us through the park and we first walked across a small wooden bridge, where the sound of rippling clear water immediately gave a very soothing feeling.
From there, it was off to the zigzag bridge; very nice to look at, but not an option to roll over! 🙂
The view of the waterfalls from here made up for a lot though!
I could also go to the Ceremony House as a roller. I was able to go in and out without any effort!
The Tea House was harder to reach as a roller because the path was quite steep uphill. While Mario went to look at it, I made a stop in the sanitary block with an adapted toilet.
This room could be a bit bigger, and I had to manoeuvre a little because the door was too close. Only the top of the sliding door is fixed, so turning around for a short distance could be problematic … 🙂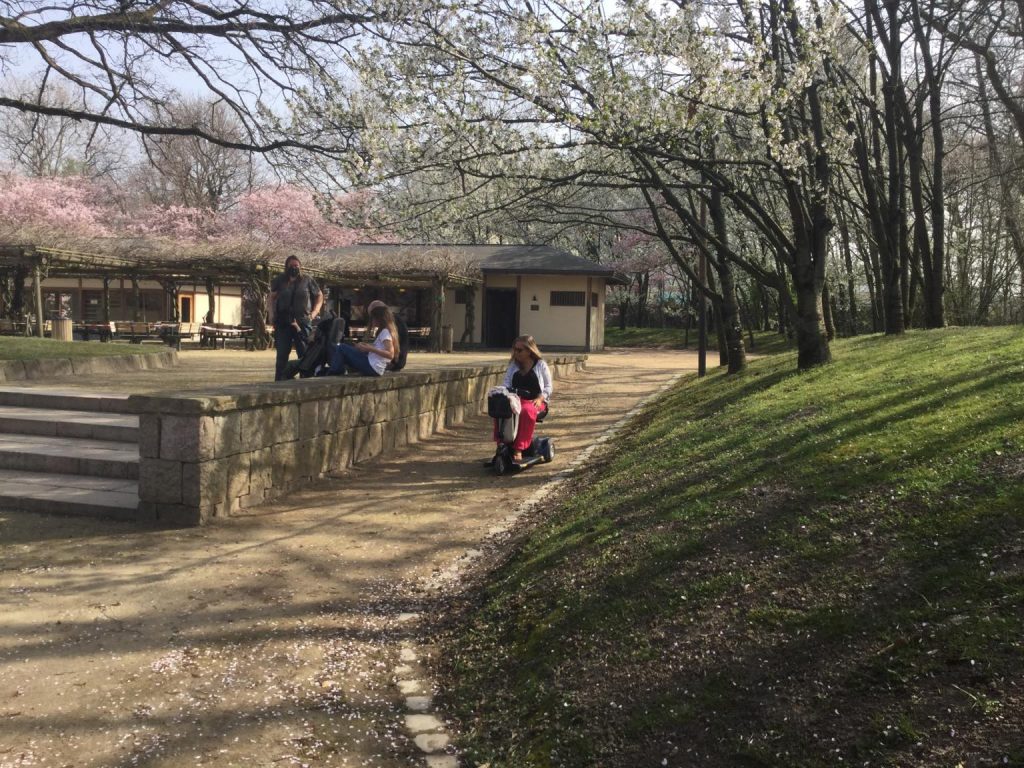 From this spot, we were close to the pebble beach where we saw dozens of fat Koi swimming around.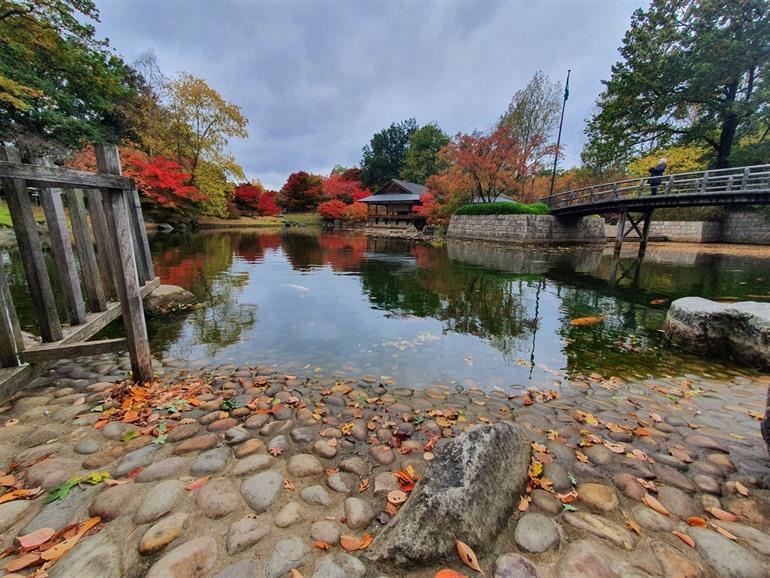 The only 'material' sound you could hear from this spot was that of the Peace Bell. A very beautiful bell that you can make to chime if you are tall' enough. I could just about reach it … 🙂
As the weather was so nice, we made the tour of the garden again and enjoyed the blossoms, the atmosphere, the birdsong …
It was really a very lovely afternoon. For me, spring remains the most beautiful season to visit the Japanese Garden!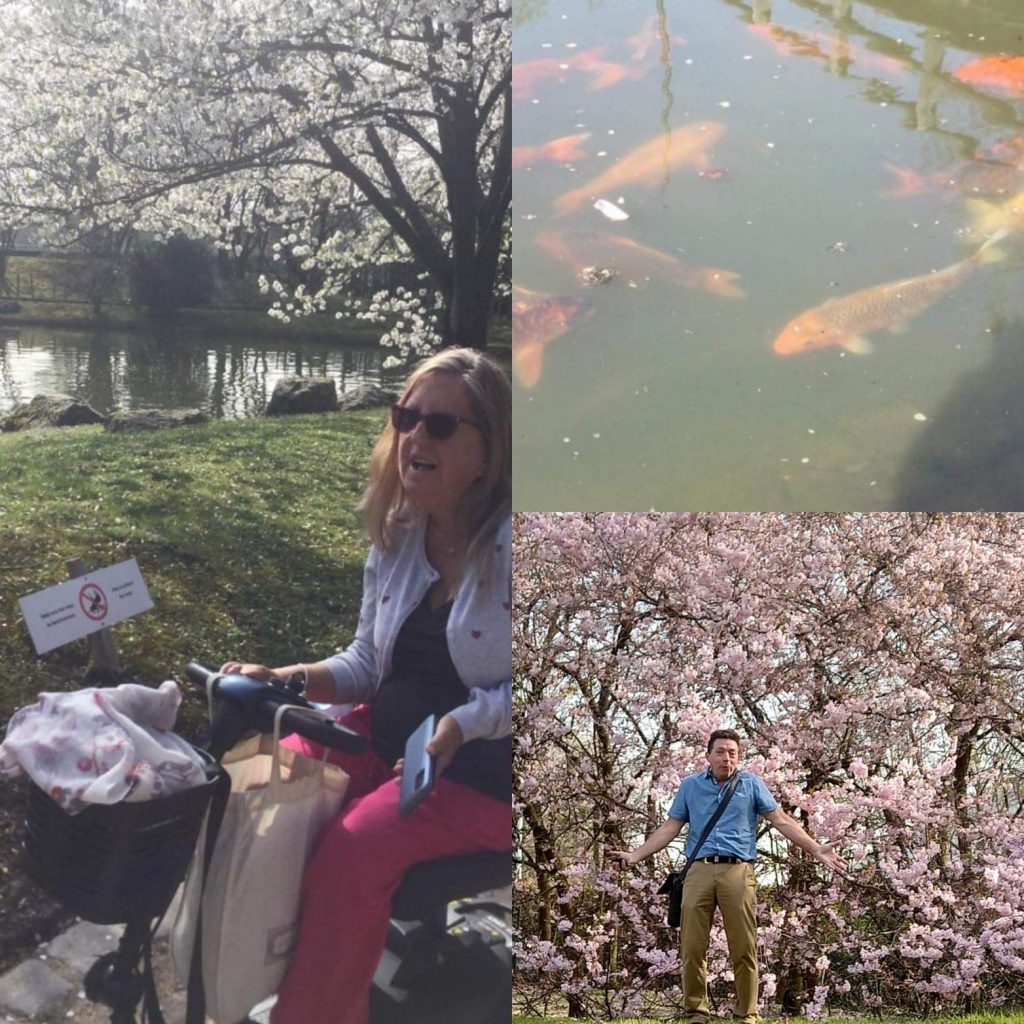 Conclusion.
The Japanese Garden is very accessible, although there are some parts of the path that might be too narrow for an electric wheelchair. But these are more than compensated by other places where you can enjoy yourself to the full!
Hereby a warm 'thank you' to Wouter Coppens of Reisroutes.be, who allowed me to use some of his photos. On this site you will also find more information about the background of the Japanese Garden.
And also, of course, to Mario … My companion … walking buddy … and, just like me, an enthusiast for life to the fullest!